Euro 2022: England captain painted in Newport Pagnell mural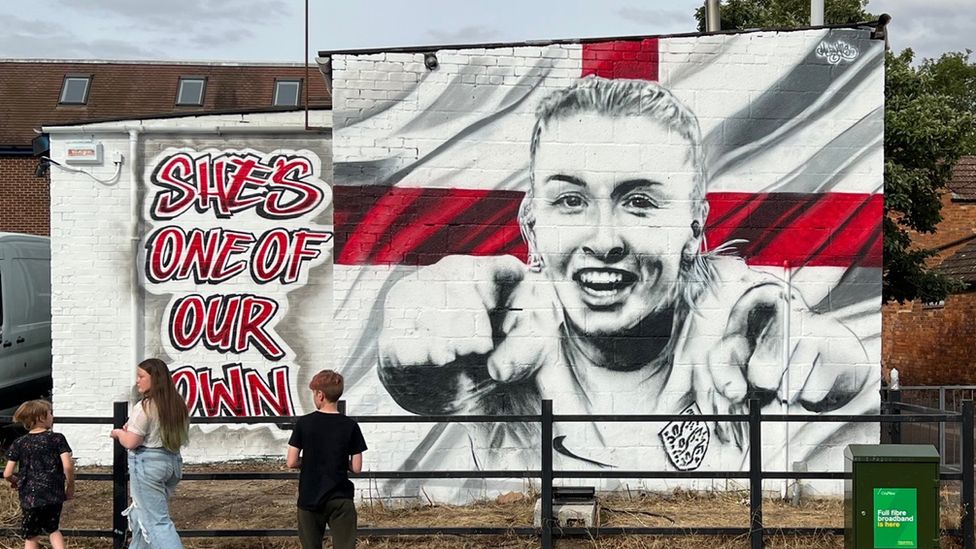 The England women's football captain has been commemorated in a mural in her hometown after the Euro 2022 win.
Her portrait in front of an England flag has been painted in Newport Pagnell, Buckinghamshire.
Mr Meana, one of the artists on the project, said Williamson was "more than deserving" of the recognition.
After the Lionesses' Euro 2020 tournament win against Germany on Sunday, Marc Silver from the street art company MurWalls was contacted to create a mural in honour of the occasion.
Alongside murals of Elton John in Watford, the company previously painted the Lionesses in the lead up to the tournament.
The mural, which spreads across three 14ft (4.2m) walls was originally planned to go on the side of Williamson's local pub. However, the pub was found to be a listed building.
The mural was instead painted on walls in The Green.
The project was started on Wednesday by artists Mr Meana and Gnasher who then invited local artist Arkade to get involved.
Mr Meana said: "We've got a couple of images we are working on.
"We've got one of her with the winner's medal round her neck celebrating and also the one we really liked that we thought showed a bit of character... where she's pointing out saying, 'this is for you'," he said.
Amongst the murals, BBC Three Counties Radio invited listeners to decide on what words or phrases should be painted to commemorate Williamson's with the winning phrase being "she's one of our own".
Leah's mum Amanda Williamson went to visit the mural during it's progressing she said: "It's just a very very proud moment and hopefully the town of Newport will be proud to see it aswell."
As a former football herself Ms Williamson spoke of the legacy and impact that her daughter's win will have.
She said she hoped it encouraged children to pursue their dreams.
"I'm just hoping that it continues to drive that and also coaches that they will accept to have girls and boys in their teams," she said.
The town's mayor Paul Day was at the unveiling of the mural and said the community was "so proud of Leah" and that "she's been recognised as a role model for some years."
"There's a really strong community spirit in Newport Pagnell and I often say the town is not the buildings, it's the people that live here. The townsfolk really, really make this town - it's a superb place and we are really proud of all of our residents including our most famous one."
Related Internet Links
The BBC is not responsible for the content of external sites.