Michael Bublé fans criticise 'scary' concert in Hertfordshire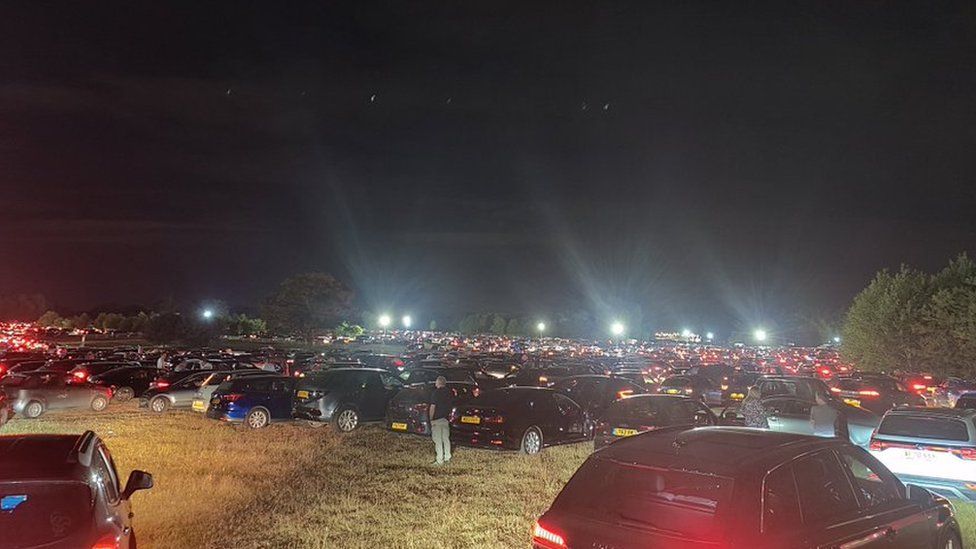 Fans at a Michael Bublé concert have said getting in and out of the event was "extremely dangerous".
Several fans have told the BBC there were very few traffic marshals at Hatfield House, Hertfordshire, to help the 25,000 fans leave after Saturday's concert.
Ellen Warner, who attended, said it was a "a ridiculously scary, overwhelming and dangerous situation".
Hatfield House said it was talking to promoters AEG about what went wrong.
AEG Presents, which organised the event, have been contacted for comment.
Gig-goer Penelope Martin said issues began before the event with tailbacks which meant she and others walked down a dual carriageway to reach the venue on time.
After the concert, people reported delays of two to three hours leaving the parking area, which they said had no or few marshals for thousands of cars trying to exit out of one gate.
Ms Martin, 60, said: "I've been to a lot of concerts in my life but my experience was this was an awful, shambles of an event.
"It was an extremely dangerous situation."
Sarah Scoot had tickets for her birthday celebrations, but delays getting in meant she missed the start of the show.
She left early but said the car park was "already gridlocked" and there was "no traffic control or guidance".
"I am just so upset, this totally ruined the whole experience, this was my 40th birthday and I spent most of Sunday deflated and upset by it all. Absolutely gutted."
Another attendee Ellen Warner said: "We ended up sat in the car for two hours and 45 minutes with no water, no bathroom and no communication from members of staff. It ruined the whole event for us."
Mark Ellis and his wife travelled from Bicester in Oxfordshire and said that while the concert was great the organisation was poor.
"We go to a lot of these things and I've never seen the like of it," he said.
"I saw people in wheelchairs and on crutches struggling, the gate was in a corner and you had to barge through a queue for the toilets to get to it."
A spokeswoman for Hatfield House said there had been reports of "significant disruption" getting to and from the event.
"Hatfield Park is made available for professional events companies to create experiences which we believe will be memorable for all.
"For some, this event has been memorable for the wrong reasons. We regret that fact deeply and will now review the event's shortcomings with the organiser. "
They said the event "fell short of our standards" and they had "never experienced disruption on this scale" at any of their previous events.