Michael Buble fans angry at missing gig due to traffic chaos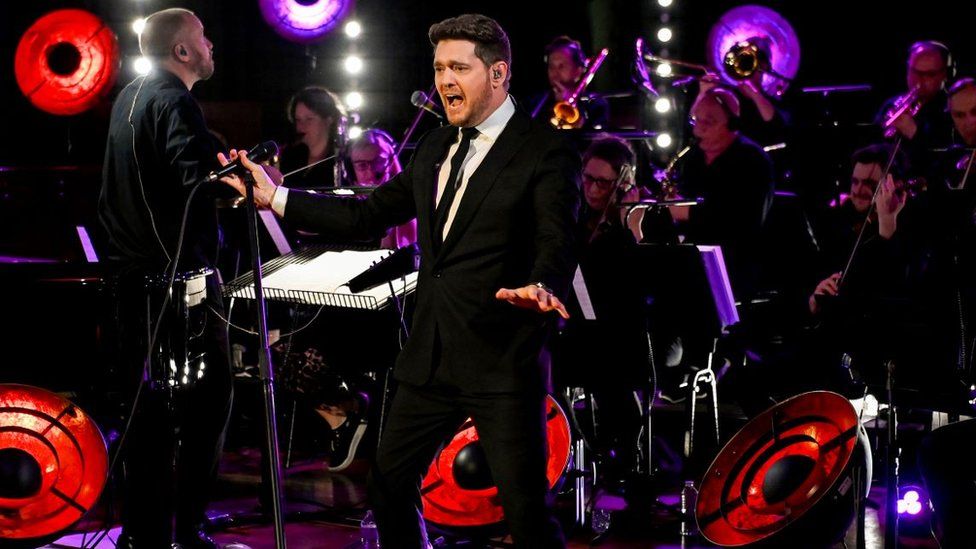 People attending a Michael Buble concert were left furious after becoming stuck in traffic queues with some missing much of the open air gig.
Social media saw a slew of complaints about traffic management at Waddesdon Manor in Buckinghamshire, on Saturday.
On Twitter, Thames Valley Police said it would be working with organisers to avoid a repetition of the issues for a McFly gig on Sunday.
Promoter Senbla said it was "urgently investigating" the traffic issues.
Among the posts on social media from angry concert-goers, Alice Fowle said: "Really love queueing for 3.5 hours to arrive to see Michael Buble is doing the encore 👍 never experienced anything like it"
Another asked "@senbla have you sorted the organisation for tonight's Mcfly concert at Waddesdon after last night's carnage?".
Those who managed to get in said leaving the venue was also problematic. Mark Anderson described the experience as "abysmal".
Another music fan, Paul Owen, said: "Absolute chaos. Left at six for 16-mile journey, got there for 8.50, still 100s of cars behind us trying to get in.
"Car park tickets sent everyone to the wrong entrance. 15-min walk up a steep hill, saw people on crutches that would never had made it."
Thames Valley Police's post on Twitter on Saturday said: "We have been made aware of the traffic issues... we have spoken to the organisers and will endeavour to work with them to avoid issues for future events. In the meantime please avoid the A41."
In a statement on Sunday afternoon, Senbla said: "We understand some people were affected by the congestion and we are further investigating the reasons behind this and will be issuing another update in due course which can provide more clarity."
With reference to Sunday's McFly gig it added: "We have held meetings with the traffic management team this morning to ensure that we have extra stewards and signage in place to assist drivers in entering and leaving the side.
Senbla also asked drivers to follow the signs and not to use their satellite navigation for parking.
A petition has been started by concert-goers angry at missing the show and demanding their ticket fee back.
Tickets for the show at the stately home were understood to have started from £79.
On Waddesdon Manor's website, a banner statement said its grounds "had been hired as a venue only, and our staff are not involved in the organisation of these concerts".
It directed any inquiries relating to the concert to Senbla.
Stephen Jury who lives three miles from Waddesdon Manor has tickets for McFly.
He said he has received a message about the traffic situation from Ticketmaster, which warned concert-goers about high volumes of traffic caused by "events out of our control happening near the Waddesdon area".
Related Internet Links
The BBC is not responsible for the content of external sites.