Terminally ill woman reunited with horse at Aylesbury hospice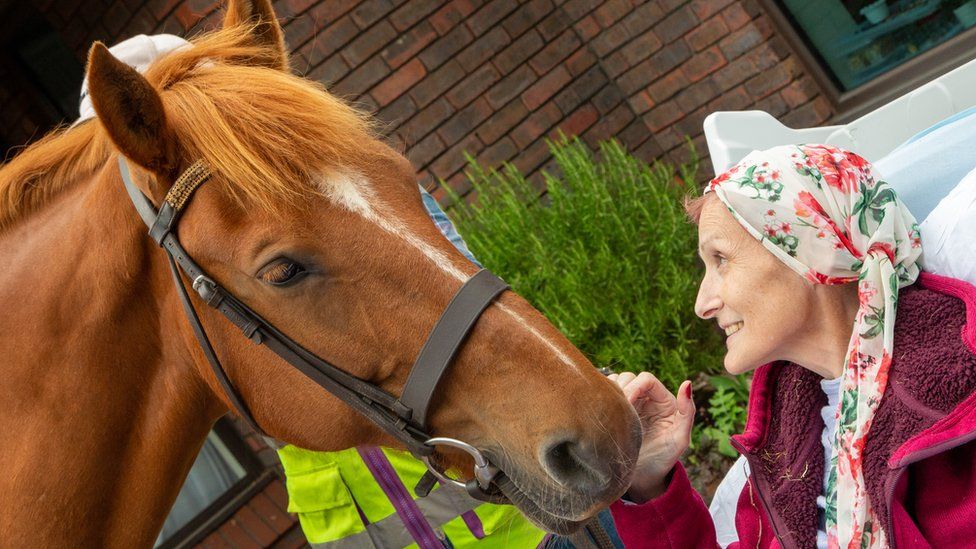 A woman who is receiving end of life care has been reunited with her beloved horse outside a hospice.
Hayley Golding, 50, is being cared for at Florence Nightingale Hospice Charity, in Aylesbury, Buckinghamshire.
The "beautiful moment" meant she could kiss, stroke, pet and be nuzzled by Passion, her two-year-old horse, from her bed, the hospice said.
Ms Golding said it was an "amazing" experience and she did not believe it would be possible.
"The whole day was awesome, to see Passion walking toward me was unbelievable," she added.
"I would like to say a huge thank you to everyone involved who made this happen, I didn't believe it would be possible."
Her family said: "From the moment the idea was suggested we didn't actually believe it was possible, however it did happen.
"To see the look on Hayley's face when she saw Passion was wonderful."
The hospice, in the grounds of Stoke Mandeville Hospital and run by Buckinghamshire NHS Healthcare Trust, is partly funded by Florence Nightingale Hospice Charity.
It said it was a "beautiful moment which encapsulates the personal, compassionate nature of hospice care".
It shows how care can be "tailored to the needs of each patient and their family", it added.
Pete Griffith, the trust's chaplain, who took the photos, said: "It was great to be able to support Hayley and the family in capturing such a special moment.
"It shows what good, holistic spiritual care for our patients looks like and the hospice went above and beyond to ensure Hayley's reunion with Passion would be a special moment."
Liz Monaghan, matron for palliative and end of life care, said many staff members were left in tears.
"There was something so touching about the tenderness shown by such a large and beautiful animal towards Hayley - it really did feel like Passion was saying goodbye," she said.
She added that she felt "privileged" to have witnessed it.
Related Internet Links
The BBC is not responsible for the content of external sites.