New Bedford vertical farm to help food security - minister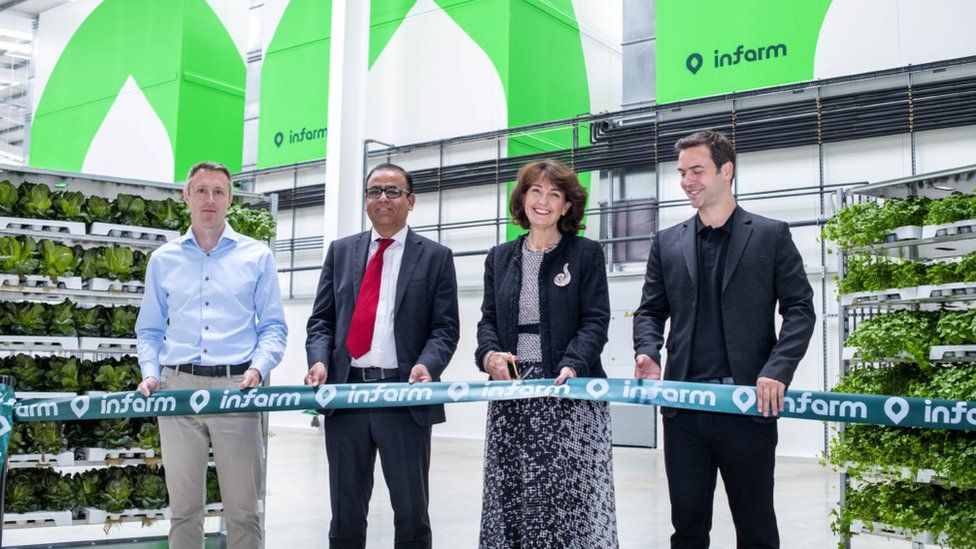 An agriculture minister said she expected indoor farms to "play a large part in the future" of farming.
Jo Churchill MP made the comment at the opening of a vertical farm in Bedford, which is one of the largest in Europe.
The facility - Infarm - which measures 10,000 sq m (2.5 acres) in size, has the capacity to grow millions of crops each year in tall units without soil.
The company said the farm used 95% less water than traditional farming methods and no chemical pesticides.
Under the method, plants are fed directly with mineral nutrients in water, often under artificial light.
The minister for Agri-Innovation and Climate Adaptation, said: "This is innovation, we have the traditional but we also have this high-tech development.
"The world needs food, so actually finding better and diverse ways to deliver that, both to the customer, there is space for everybody to produce optimally.
"This is definitely going to play a large part in the future."
The Bedford site is Infarm's first high-capacity growing centre in the UK and can feature up to 40 cloud-connected farming units, each standing 10 metres high.
Each unit can grow more than 500,000 plants per year - the equivalent of a football field worth of crops.
Ms Churchill said she expected this method of farming to generate more jobs for young people, especially in the areas of robotics, artificial intelligence and plant breeding.
Bedford MP Mohammad Yasin, Labour, said the venture would create between 50 and 70 new jobs.
"The UK is overly dependent on food imports leaving us dangerously exposed to food insecurity and soaring food prices," he said.
"I'm really excited that Bedford is now home to one of Europe's largest vertical farming facilities at the forefront of new ways to grow more food domestically."
Infarm said an estimated 2.5 million litres of rainwater would be captured and used in its Bedford farm.
Water which evaporates from plants would also be recycled back into the system.
Types of produce grown this way included herbs, leafy greens, salads, microgreens, and mushrooms.
Strawberries, peppers, cherry tomatoes and peas would also be grown going forward, the firm said.
"Every vertical farm is connected to a central farming brain which gathers data constantly to improve plant yield, taste and nutritional value, while further reducing the use of natural resources," said Infarm.
Erez Galonska, co-founder of Infarm, said: "The opening of this UK facility is aligned with our goal to change the food system for the better by improving the safety, quality and environmental footprint of our food."
The Bedford farm said it planned to install solar panels to provide renewable energy.
"By the end of 2022 we aim to procure close to 100% green-certified, renewable and low-carbon sources of electricity across our network," it said.
Related Internet Links
The BBC is not responsible for the content of external sites.