Vivian Maier: Milton Keynes hosts first UK exhibition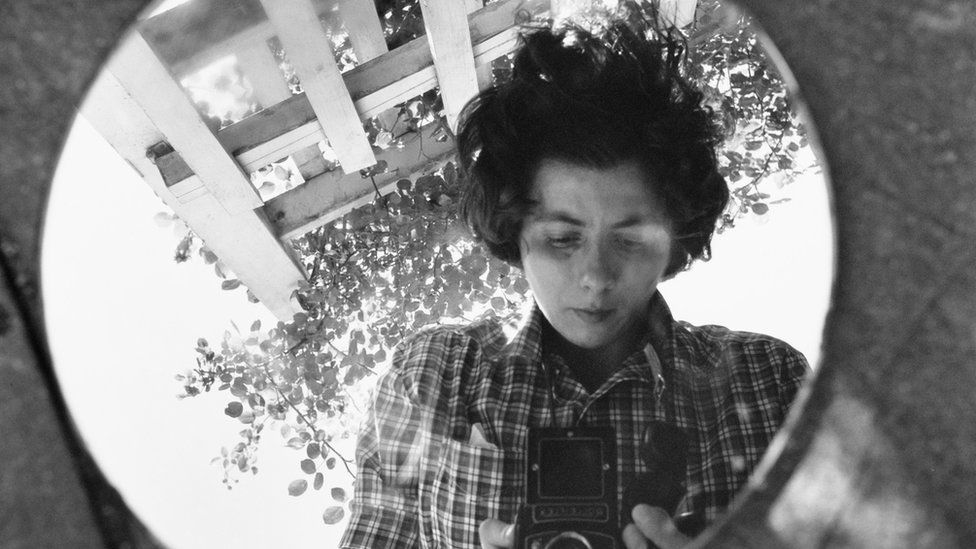 The story of the elusive street photographer Vivian Maier has been described as "extraordinary" as her work goes on show in the UK for the first time.
Maier worked as a nanny in New York and Chicago, but also secretly captured everyday life on the streets.
A selection of her art is on show at MK Gallery in Milton Keynes.
Director Anthony Spira said she was "one of the greatest recorders" of 20th Century American life.
The gallery said the exhibition had attracted bookings by people from the United States and the Netherlands, as well as from across the UK.
Curator Anne Morin described Maier as "an invisible woman who acceded to be an icon".
Born in 1926, Maier worked as a nanny for more than 40 years and photographed daily life in both New York and Chicago in the 1950s and 1960s.
She captured the relationships, interactions, and expressions of people through striking portraits, presenting a distinctive record of urban America in the mid-20th Century.
Maier also took many self-portraits, frequently casting herself in a shadow or reflection in a mirror.
She produced more than 150,000 images as well as Super 8 and 16mm films, prints, audio tapes, and reams of undeveloped film which she shared with virtually no-one in her lifetime.
In 2007, two years before her death, her work was found in a storage locker and auctioned for $400.
The man who bought them, John Maloof, realised the images were special but had no clue who had taken them.
After amassing an archive of up to 100,000 negatives and some 3,000 prints, Mr Maloof managed to give the anonymous photographer an identity - but it was not until after Maier had died.
Mr Spira said: "Vivian Maier's story is an extraordinary one.
"The nanny who lived secretly as a world-class photographer whose remarkable work remained virtually unknown in her lifetime is now hailed as one of the greatest recorders of American life in the 20th Century, cementing her place in the history of photography alongside Helen Levitt, Diane Arbus, and Robert Frank."
Vivian Maier: Anthology is at the MK Gallery until 25 September.
Related Internet Links
The BBC is not responsible for the content of external sites.