Bee sting allergy woman says swarm at Bletchley flat 'could kill'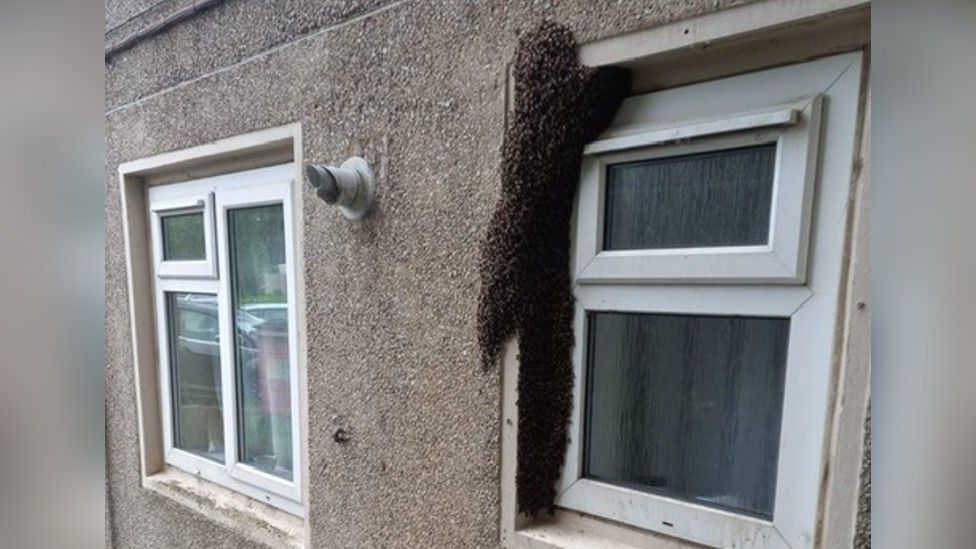 A woman with a severe allergy to bee stings said she was scared she could die after thousands of bees swarmed the block of flats she lives in.
Kerry Knibbs was hospitalised last year after being stung outside Doune House in Bletchley, Milton Keynes.
She said she first contacted Milton Keynes Council about the issue three years ago.
On Monday, the council moved Ms Knibbs and her children into a hotel and said pest controllers had visited the block.
Ms Knibbs said some bees were living in the building's wall cavity - while others remained outside the building attempting to get in.
A spokesperson for the council said it had treated the nest in the past.
"We're carrying out a cleaning operation to remove the bees and have provided accommodation for one resident," the spokesperson said.
"The council is looking at long-term solutions with our contractor."
"I'm deadly allergic to bee and wasp stings and carry an EpiPen so at the moment they are a massive risk to my life," Ms Knibbs said.
"I was stung last year. I walked into my kitchen to make a cup of tea and trod on one that was dormant on the floor.
"I then made my way to work and within 15 minutes of being at work I had ambulance crews out to me because my body was going into anaphylactic shock."
Ms Knibbs, who lives on the top floor of the building, said the bees were "all over" but "the higher up you go, the worse they get".
"I can't do this much longer," she said.
"They'll kill me. I'll die.
"I've been living everyday wondering if I'm going to get swarmed in the night.
"I've had enough. It's like living in a nightmare."
Ms Knibbs said that after contacting BBC Three Counties Radio, the council arranged for her and her children to stay in a hotel for two days while pest control dealt with the bees.
Related Internet Links
The BBC is not responsible for the content of external sites.