Aylesbury theatre paintings capture effect of Covid-19
By Katy Lewis
BBC News, East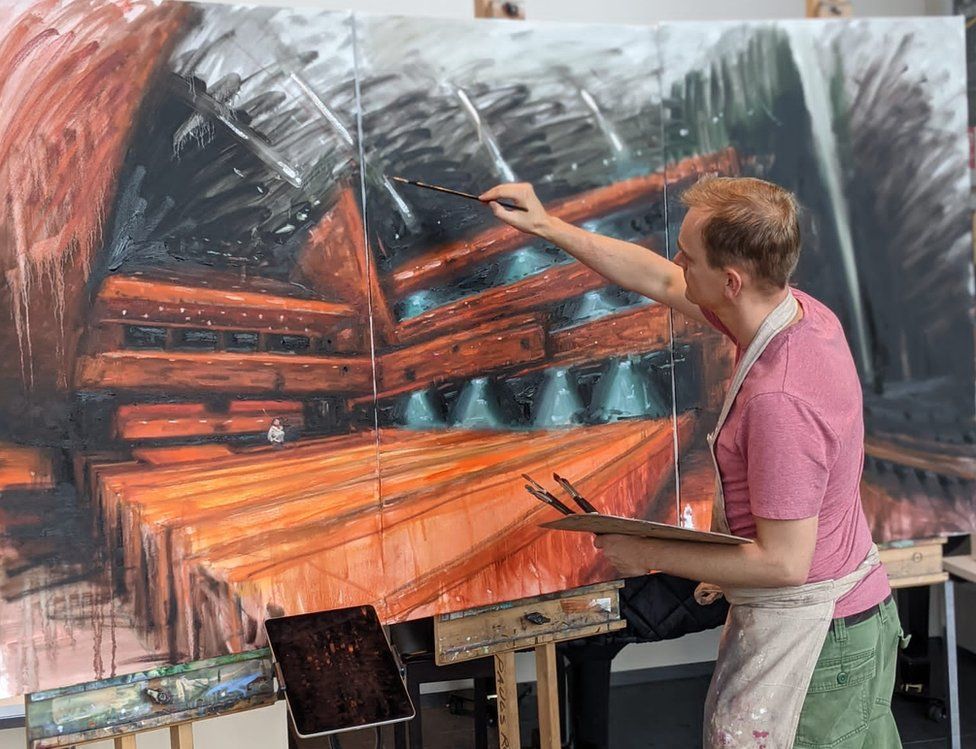 Paintings of a theatre before, during and after Covid show both "hope" and also an "industry on its knees", its technical manager said.
Peter Keegan was commissioned to mark the 10th anniversary of the Waterside Theatre, in Aylesbury, in 2020.
Within weeks, all theatres in the UK closed due to the pandemic, but the artist continued to paint.
Keegan said his work ended up showing "how this wonderful industry has survived the impact of Covid".
Technical manager Lou Stevens said he had "managed to capture a pretty difficult time".
The paintings have now been hung at the theatre as a reminder of the scale of the disruption.
In early 2020, Keegan, whose studio is in Botolph Claydon, near Buckingham, depicted a thriving theatre and even painted its last standing concert with Frank Turner, just 24 hours before the government announced the closures.
"I created two paintings from that night, a bar scene where people are standing shoulder-to-shoulder and a front-of-house scene where people are mingling closely," he said.
"In hindsight maybe we shouldn't have been doing that at that time - it's quite a sobering thought."
He revisited the venue during its 18-month closure when restrictions allowed, and continued after its reopening in September 2021.
"Suddenly everything stopped and we had the difficult decision of, do we carry on the residency or do we stop," he said.
"But I thought it was important to tell the story and showcase what theatre went through and how it has carried on.
"I'm really proud to see how that story has unfolded," he said.
During his lockdown visits, technical manager Lou Stevens was the only staff member working to maintain the sleeping building, which she found "really soul-destroying".
"On the one hand I felt privileged and lucky to still go to work but at the same time I wasn't doing my normal job," she said.
"I had to check every level of the building, check no pipes had leaked, nothing had burst, no one had broken in, just trying to do a different route every third day because you heard your own footsteps, you heard your own echo, you heard every door close.
"The building is normally so vibrant, there's lots of chatter and there wasn't any of that."
The picture of her standing alone in an empty auditoriumshowed a difficult period, Ms Stevens said, but "because of the colour and vibrancy it also reflects hope".
"I'm normally behind the scenes, I wear black for a living so you notice me as little as possible, so [the painting] really is also seeing me in a different light," she added.
"It's really humbling that I'm now captured in something that will be in the building for years to come."
Keegan said: "I had always meant to paint the auditorium but I imagined it would be full of people.
"The lone figure with the weight of cavernous space around her shows the symbolic emptiness of the time period."
On the day the theatre reopened, the artist was there "to capture those first tentative days back", seeing the front-of-house team being briefed in their masks and Sir David Suchet signing in at the stage door behind Perspex.
The artist said the residency had given him the "opportunity to really think deeply" about how he painted and what story he was trying to tell.
But reflecting life in the arts during a pandemic had also demonstrated to him what a "close-knit family theatre is".
"It is a close community that was shattered by Covid and while they rallied round each other they did not have much support from outside," he said.
"I had great sympathy and compassion for them and it was heart-breaking to see how life stopped."
Keegan said that he was now looking for another "creative collaboration".
The exhibition of 12 completed paintings is available for viewing when the building is open.
Related Internet Links
The BBC is not responsible for the content of external sites.