Potters Bar: Buses catch fire at town centre transport depot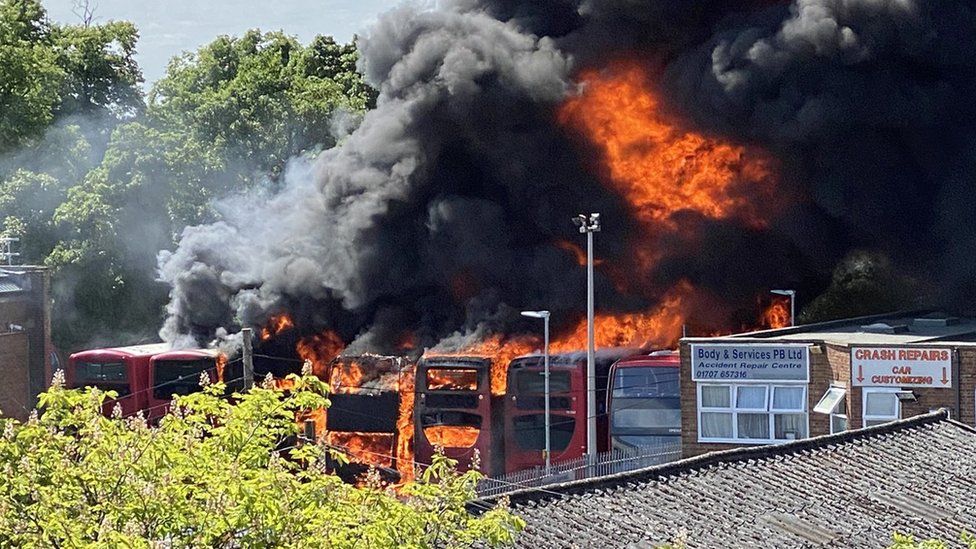 A number of buses have caught fire at a town centre transport depot.
Heavy smoke drifted across Potters Bar after Hertfordshire crews were called to the scene on the High Street at 14:36 BST.
Eyewitness Shaun Cunningham said he heard an "unbelievable noise that sounded like a jet" and he saw a bus had "exploded into a ball of flames".
The fire service said it received "numerous calls" and was working with police to evacuate the area.
The depot is home to Metroline, which runs buses in London.
The fire service said at least four buses were involved in the fire.
A spokesman for Hertfordshire Fire and Rescue said nobody was thought to have been injured.
The service, which has taken more than 70 calls about the blaze, has asked people to avoid the area and keep windows closed.
Mr Cunningham, who lives nearby, said: "I just heard an unbelievable noise that sounded like a jet and when I looked out my window, one of the buses exploded in a ball of flames."
People reported on Twitter that the smoke could be seen in St Albans, about 11 miles (18km) away.
Paul Kirby, a BBC reporter who saw the fire, said he spoke to bus drivers who told him they were relieved the underground diesel storage appeared to be safe.
It is thought that up to seven hybrid buses had gone up in flames and "you could hear several loud bangs which they said were tyres" he said.
Workers managed to move some buses but not all as they were at risk of fire, Mr Kirby added.
The BBC has contacted Metroline for comment.
Related Internet Links
The BBC is not responsible for the content of external sites.