Covid breach court case criticised by Bedford gym owner
By Jon Ironmonger
BBC Look East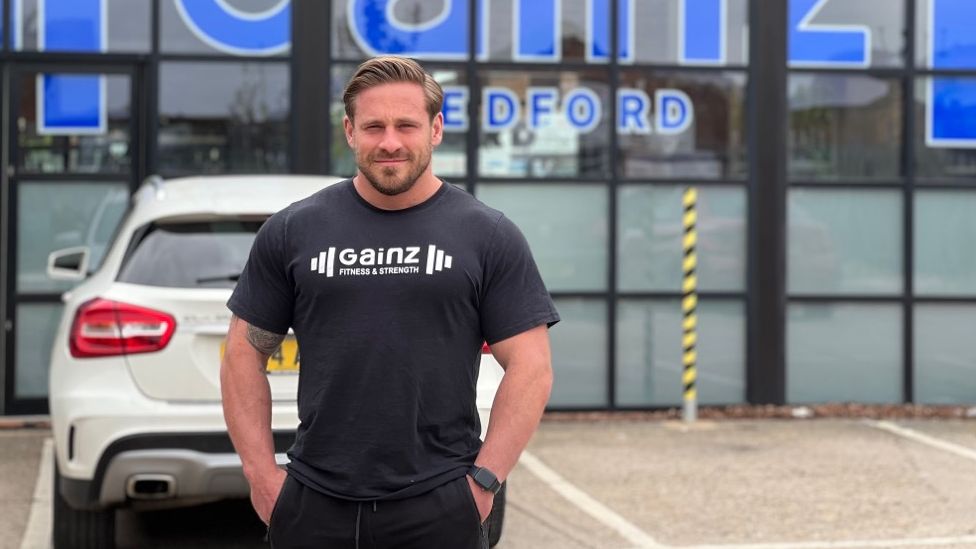 A gym boss who is among more than 20 people who overturned a prosecution for a gym-related Covid breach said the case against him was a waste of time.
Bedford Borough Council's case collapsed but the authority said it had acted in the public interest.
A lawyer told the BBC she had successfully defended 23 similar cases.
Under Covid regulations at the time - the second national lockdown in England - sports venues could only open in limited circumstances, such as for the training of elite athletes.
Infection rates and hospital admission were rising in the area but Mr Lowndes said he felt strongly that gyms should remain open.
"It became clear it was an airborne disease, you're more prone to it if you're unhealthy, overweight, etc, and gyms contributed a very small amount to the spread of the virus," he said.
"From a mental health point of view, gyms are really important, people depend on them, and I think people underestimate that.
"[Contesting the case] was based on principle. We should never have shut in the first place and we stand by what we did at the time."
The gym was raided in November 2020 and Mr Lowndes charged with a breach of lockdown regulations, which he denied.
He faced a £10,000 fine and was due to stand trial last in March but the council failed to gather enough evidence.
The authority requested an adjournment, which was rejected by magistrates.
Cases successfully defended
Gyms in England and Wales were forced to close over various periods during the pandemic but many defied the measures to stay open.
London-based criminal defence lawyer Lucinda Nicholls said she had represented 25 cases involving an alleged gym-related Covid breach, 23 of which were found in favour of her client.
In most cases, a fixed penalty notice was issued when there was an exception or reasonable excuse argument, she said.
"The biggest issue is enforcement of the legislation - the law hasn't been followed, but councils and prosecutors doggedly insist on proceeding, it makes no sense," she added.
"We've been in scenarios where costs have just added and added, and we've written to the local authority saying, 'Why are you doing this?' This is completely unnecessary'."
Local Authorities as well as the police or Crown Prosecution Service have the power to issue and pursue fixed penalty notices in the courts.
The CPS said each case was considered based on its "individual merits" and prosecutions followed "whenever our legal test is met".
The Local Government Association did not wish to comment.
Mr Lowndes claimed the council case was "flimsy" and "inept", and that it was also "ludicrous" to continue to prosecute people for exercising after details of the "partygate" gatherings in Westminster emerged.
"They [the council] should have looked at it even six months in and gone 'this is a waste of time'," he added.
"But they kept going and they kept going, they brought in an external barrister, they kept spending money, and it just got out of control."
Bedford Borough Council said regulations were enforced in line with its duty at the time.
"We brought this case because there was ample evidence for a successful prosecution following the non-payment of a fixed penalty notice and because it was in the public interest," said a council spokesman.
"It is important that we remember that the threat posed by the virus then was very different to that which we face now."
"The pandemic isn't over but the combination of immunity from prior infection, vaccinations and antivirals has made it possible for us to return cautiously to the activities that we love."