Hemel Hempstead mother's funding plea for daughter's rare disease
By Alex Pope
BBC News, East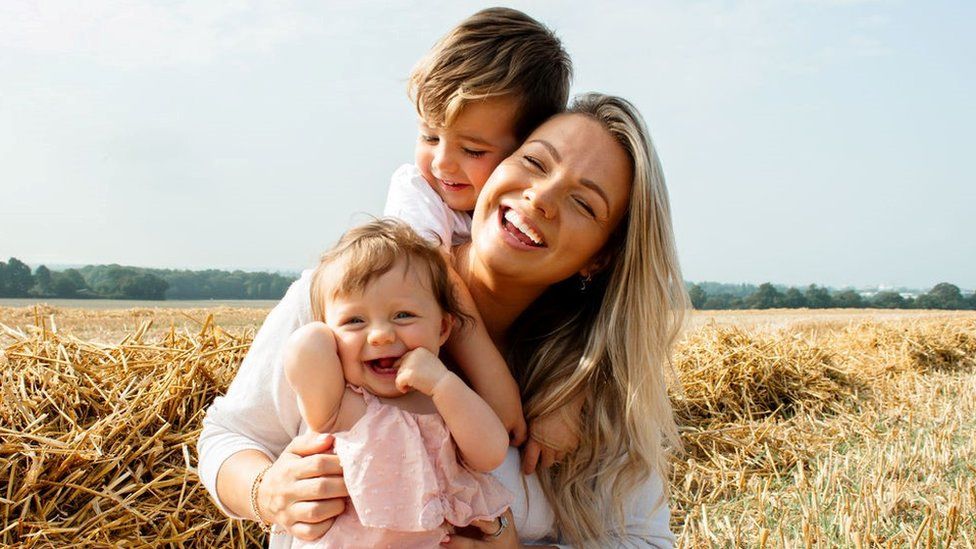 A mother of a one-year-old girl with an illness that turns muscle into bone has urged the government to do more to help research into rare conditions.
Lexi Robins, of Hemel Hempstead has the very rare condition Fibrodysplasia Ossificans Progressiva (FOP).
Her mother Alex Robins said despite government promises no research funding into the condition had materialised.
Health minister Maria Caulfield said £22bn had been committed to rare diseases by 2027.
Mrs Robins said when Lexi was born in January 2021, she had a routine pregnancy and everything was fine.
When she and husband David took Lexi back to their Hertfordshire home Mrs Robins noticed her baby's "big toe was bent inwards".
"I wheeled her back into the maternity ward for someone to check her," Mrs Robins said.
"They took some photos and we were told it was bunions, which I didn't believe."
What is Fibrodysplasia Ossificans Progressiva (FOP)?
FOP is a very rare inherited connective tissue disorder that was first identified in the 18th century
There are about 900 known patients and about 4,000 people thought to have the condition globally
The disorder affects males and females equally and all ethnicities
After months of tests it emerged Lexi was missing the "knuckle and top bone in each of her big toes and she also had fused thumbs", Mrs Robins said.
She said she ended up carrying out her own research and became increasingly convinced Lexi had FOP.
By June 2021, genetic testing had confirmed Lexi did indeed have FOP. Mrs Robins struggled to accept the result.
"I just kept fighting and fighting, I just didn't accept it."
Mrs Robins learned there was, she said, "limited research worldwide" into the condition and just one UK facility - in Oxford - that studied the condition.
"I was informed the charity FOP Friends needs to raise nearly £200,000 a year to keep this lab going to find a cure for [the illness].
"Not only has your kid got FOP," she said, "but you have to raise money to try and find a cure for it - there's nothing on the NHS."
To raise awareness of the condition, the family raised £170,000 in less than a year and set up a petition aimed at getting the funding of rare diseases discussed in parliament.
A debate took place in December though as yet, no specific funding has been pledged to research FOP.
For Lexi's parents, the most important consideration is keeping her safe and well.
"One of the most common things is that some of the more severe flare ups are caused by an injury or a fall," Mrs Robins said.
The family has sold its home and is working to build a bespoke bungalow, with soft furnishings and no hard corners.
The aim of the new home, they said, was to "keep her as safe as possible, under our care, to help prolong the quality and extent of her life".
"We have to fight for the hope for a possible cure," Mrs Robins said. "It's overwhelming but you do anything for your children."
Addressing the government, Mrs Robins asked: "When are you going to step up?
"We've raised the money, we got the signatures, nothing has come of it.
"We don't fall into the rare diseases [category] - we want resources dedicated to finding a cure with a research team and a dedicated nurse for FOP patients.
"We need action now. The more years funding is prolonged, the worse people like Lexi get. "
Mrs Robins said she has the support of Sir Mike Penning, the Hemel Hempstead MP.
Sir Mike said the campaign for FOP research funding was "all about momentum".
"We need to keep the pressure on," he said. "I will continue to push ministers to push the scientists that will make the decision on funding."
Health minister Maria Caulfield, said: "I know rare diseases like FOP pose immense challenges for the people living with these conditions and I want to thank campaigners like Lexi and her family for bringing attention to such an important area.
"It's crucial we continue to improve our understanding of rare diseases, which is why we've committed to increase overall spending on research to £22bn by 2027.
She added that research funding was available through the National Institute for Health and Care Research (NIHR).
The government has also committed £40m of new funding to the NIHR BioResource, a network of academic and clinical experts, to further its work in characterising and understanding rare diseases.
Related Internet Links
The BBC is not responsible for the content of external sites.