Bedfordshire A428 dig: 'Hugely significant' Roman farm found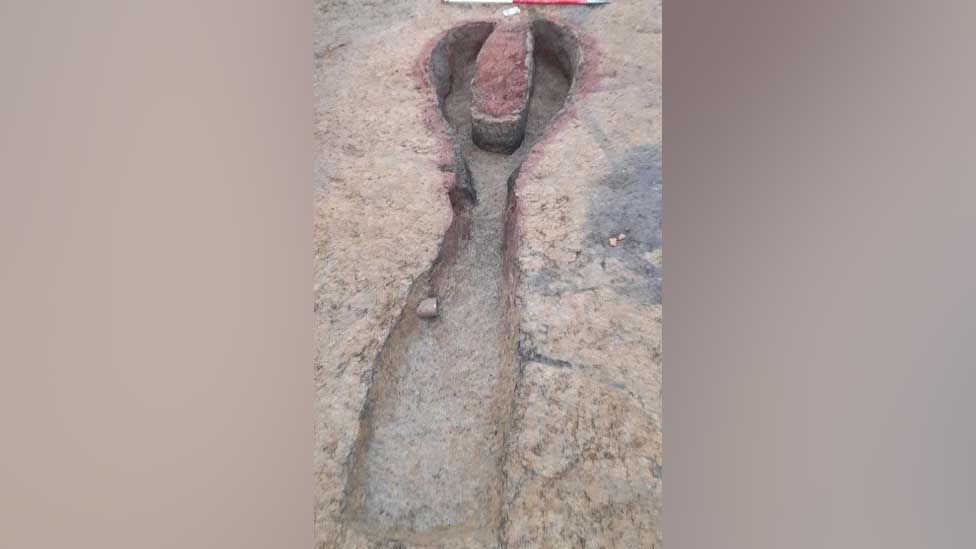 Archaeologists have unearthed "hugely exciting and significant" Roman finds ahead of a road improvement scheme.
Its history spans about 700 years from the Middle Iron Age (300 to 100BC) to beyond the Roman era.
The dig revealed two large round houses and a Roman pottery kiln, with a large number pots which failed during firing.
Neolithic and Bronze Age flint arrowheads were also discovered dating to between 4000 to 700BC, suggesting people were hunting animals in the area well before the farmstead existed.
The two 15m (49ft) round houses were the first evidence of a settlement at the site, alongside remains of butchered animals, pottery, loom weights for weaving and personal items.
The farm expanded after the Roman conquest in AD43.
Lead archaeologist Dr Steve Sherlock said: "What is particularly exciting is the site was initially established beside a substantial boundary ditch and we think this boundary was used to define perhaps a tribal area.
"This large ditch seems to have been maintained and occasionally redefined, whilst Iron Age settlements here and elsewhere respect the feature."
They believe the site was used both for production and trading.
Dr Sherlock said the farmstead was a "hugely exciting and significant find, as it helps to further shape our understanding of what life in Bedfordshire was like over a period of 6,000 years".
The finds will be sent for expert analysis.
Related Internet Links
The BBC is not responsible for the content of external sites.