George Fox: Hope fading for boy with brain tumour, says mum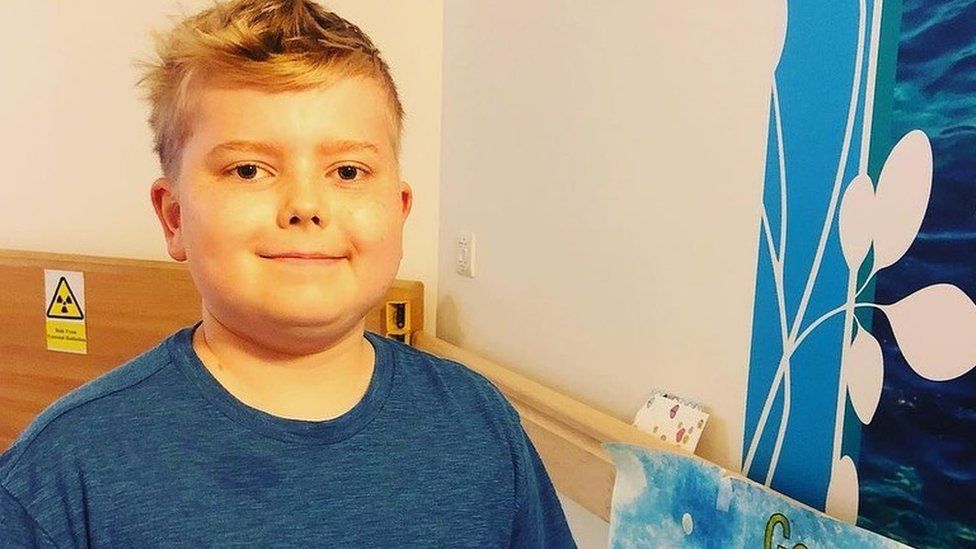 The family of a boy with a brain tumour said they were "heartbroken" he could not receive alternative treatment in the US after falling ill on the flight from the UK.
George Fox, 13, from Barton-le-Clay in Bedfordshire, was diagnosed with a glioblastoma last year.
George's mother Louise Fox said the family were "running out of options" and hope was "fading".
Mrs Fox said George "really deteriorated" on the flight and had to go straight to hospital.
"He was in so much pain and had seizures on the flight," she said.
"We arrived here terrified."
The family called an ambulance and George was taken to hospital in Los Angeles.
He had an operation on Sunday in a bid to relieve the pressure on his brain and will need further procedures to be well enough to fly home, Mrs Fox said.
The Year 8 pupil was diagnosed with an aggressive brain tumour in April last year.
Surgeons at Addenbrooke's Hospital in Cambridge managed to remove about 99% of it but the family was told there was no cure.
The family then sought alternative treatment in the US.
Due to difficulties obtaining travel insurance for George, the family is now facing a large bill for his healthcare in the US.
"For just the first two days in this hospital we've had a bill of $114,000," Mrs Fox said.
"It's $21,000 per day just for a bed in intensive care.
"It is quite scary. To be honest we are just devastated."
The family said George would no longer be able to do the treatment trial and their focus was on getting him well enough to return home.
But due to the medical bills they need to raise more money via their online fundraising page to make it possible, his parents said.
"We will never say there's no hope and while George is here and wants us to fight for him, we will continue to fight," Mrs Fox said.
"There are not many stones left unturned, we are running out of options.
"We're faced with possibly losing one of our beautiful children."