Milton Keynes: New university project for 2023 delayed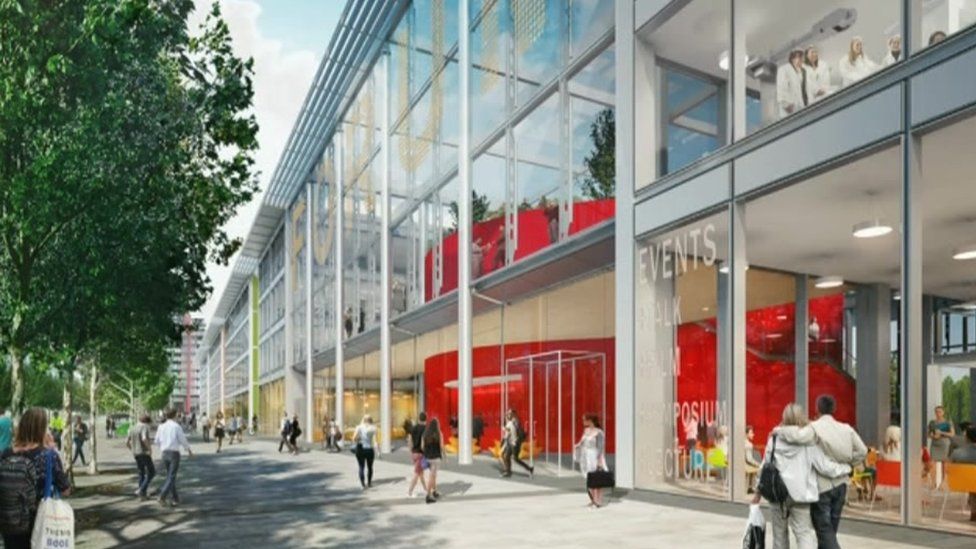 Plans for a new university in Milton Keynes, which was due to open next year, have been delayed.
Cranfield University would have provided a curriculum focused on science, technology, engineering and mathematics at MK:U.
But it said the campus could not be built because it was not assured of government funding for the institution.
Pete Marland, Labour leader of Milton Keynes Council, said he was "confident" it would still be built.
The project was expected to be built on land close to Central Milton Keynes railway station, and would have welcomed 5,000 students within the first five years, with an ambition to grow to 15,000.
Cranfield said the overall cost of the new university would have been between £300m and £400m with about £100m coming from government.
Mr Marland said: "I think not securing the money was unfortunate but I don't think it's going to be a long term delay.
"MK:U doesn't just have benefits for Milton Keynes it has benefits for the wider region and nationally."
Conservative Milton Keynes North MP Ben Everitt said he was "surprised and very disappointed" the university did not get government funding.
He said: "It's good project, it's a good business case, it's smack in the middle of our priorities as a government and as a country
"All those factors haven't gone away, it's still the right university in the right place."
Mr Everitt said the campus could "absolutely" still happen, adding: "There is no reason why the project couldn't get a reboot."
Prof Lynette Ryals, pro-vice chancellor of Cranfield University and chief executive of MK:U, said Milton Keynes was the largest urban area without a university.
She said the delay was "a disappointment particularly after the support we had from the local council, the local MPs and over 100 companies".
MK:U has begun taking students on degree apprenticeships but the qualifications come from Cranfield, she said.
But Prof Ryals said she was "not letting go of the ambition" of a full scale university in Milton Keynes but the time scale would need to be adjusted.
She said the campus would not be built before 2025 and "the sooner the uncertainty about the funding position can be resolved the better".
"What the government can do if they back this is accelerate that process," she said.
The Department for Levelling Up, Housing and Communities has been contacted for comment.
Related Internet Links
The BBC is not responsible for the content of external sites.