Capt Sir Tom Moore's daughter: 'Don't go through grief alone'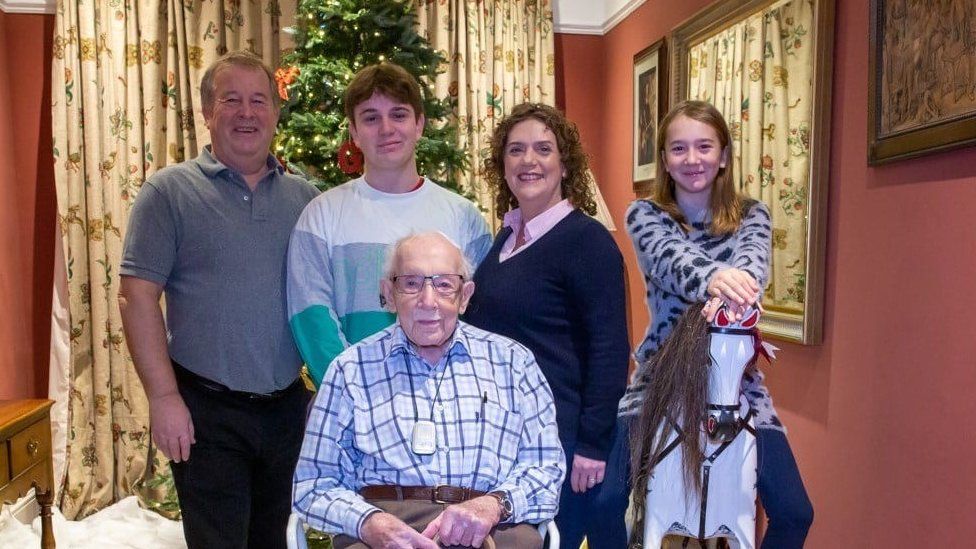 Capt Sir Tom Moore's daughter has urged people who are grieving this Christmas not to "feel alone".
Capt Sir Tom shot to fame by raising £33m by walking 100 laps of his garden in Marston Moretaine, Bedfordshire, before his 100th birthday.
His family are experiencing their first Christmas without the NHS charities fundraiser after his death in February.
His daughter Hannah Ingram-Moore said those experiencing grief "don't need to go through it alone".
"We understand what you're going through," she said.
"Many of us have gone through it. You can't tell anyone how to grieve but you can say 'don't feel isolated'."
Ms Ingram-Moore encouraged people to contact organisations such as The Good Grief Trust, which could help.
"Loss and grief can come from nowhere; you listen to a song and it makes you cry, you smell a certain smell or watch their favourite programme," she said.
"It can be hard but don't feel alone. There are people you can talk to."
Ms Ingram-Moore said her father was "part of the essence of Christmas".
"He was always in charge of the turkey and roasting the potatoes. He was a Yorkshireman so no-one could roast a potato quite like him."
The mother-of-two said it had been "really emotional" to take on the jobs her father would usually do.
"We definitely have reflective moments of sadness," she said.
"But we also have the sheer joy of the legacy he's left the world."
The 49-year-old has planned to start an annual Captain Tom Day to raise funds for The Captain Tom Foundation.
The day would also help to connect different generations and "celebrate and empower our ageing population", she said.
Related Internet Links
The BBC is not responsible for the content of external sites.