Covid: Hertfordshire schools asked to bring back masks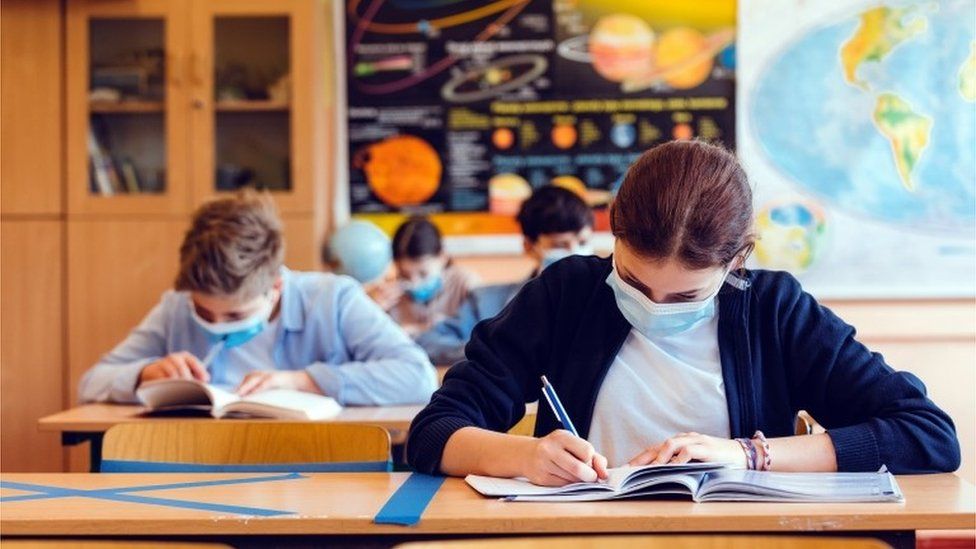 Schools in Hertfordshire have been asked to reintroduce face masks to help stem the rise in Covid-19 cases.
Public health officials have written to all parents in the county to inform them of the new measures that apply to all children aged over 11.
They said there had been a particular spike in the number of cases seen in the 12 to 16 age group.
The county's director of public health said there was a drop in cases after half-term so it was "time to act now".
Jim McManus said the number of cases "peaked in one or two areas of Hertfordshire before half-term at 2,385 12 to 16-year-olds per 100,000".
He said that figure was "higher than it's ever been".
Mr McManus said the numbers had gone down to between 600 and 1,000 per 100,000, which was "still far too high and could go back up again".
"Now is the time to act now the numbers have come down," he said.
"Face coverings are not a restrictive measure, they're a preventative measure. We have a window of opportunity to get this down, otherwise hospital admissions will climb again."
As part of the measures, secondary school staff, visitors and students are to wear face coverings in communal areas at all times except when eating or drinking, playing sport or instruments, when outside of school premises or if they are exempt.
In early years and special schools, staff and visitors are to wear masks when interacting with other adults while on site.
Schools are also being encouraged to step up testing.
Mr McManus said the measures were expected to be in place until the end of term but would be reviewed fortnightly.
Face masks had already been reintroduced on school transport.
Related Internet Links
The BBC is not responsible for the content of external sites.