Buckingham ancient skeletons could be family, says councillor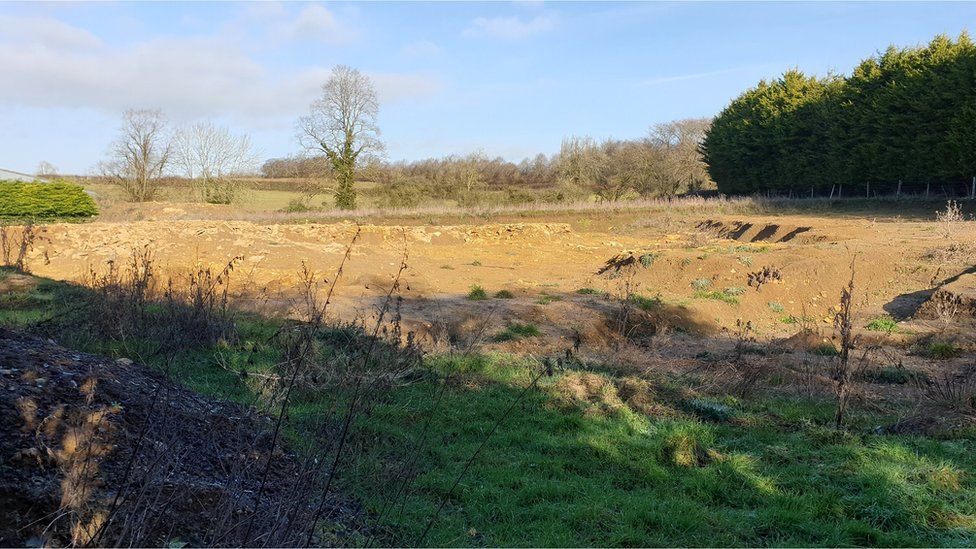 A councillor is "desperate" to know whether his relatives are among dozens of possibly Anglo Saxon skeletons - some with their hands tied behind their backs - found at a building site.
The bodies were uncovered in December during excavations ahead of work on a planned care home at West End Farm, on Brackley Road in Buckingham.
Robin Stuchbury believed members of his family could be at the burial site.
Work to develop the land and examine the remains is currently halted.
Mr Stuchbury, Labour member for Buckingham West on Buckinghamshire Council, told a cabinet planning meeting: "I am desperate, on a personal basis, and my residents are desperate - to know their own history.
"Being a local boy, I may even have relatives who are in the hole, or, I may have relatives who have put them in the hole, I think I need to find out.
"My family's been here since 1086…and if it is Anglo Saxon or Viking, it's probably to do with my family."
He asked for clarification about what was happening at the site, and said: "I understand that some of the investigations have been halted due to financial issues between the developer and Network Archaeology."
Gareth Williams, Conservative cabinet member for planning and regeneration, said he would not be "speculating on whether members of [Mr Stuchbury's] family were anything to do with people being buried facedown with their hands behind their back".
He said the development company had withdrawn its plans for the care home at the site.
"It therefore seems we cannot, as Buckinghamshire Council, insist that they fund the post-excavation works, and Network Archaeology cannot undertake the works without payment," said Mr Williams.
"Candidly, we need the other two partners to sort of take responsibility for the excavated remains from this site and to work with us on this matter."
Related Internet Links
The BBC is not responsible for the content of external sites.