Spielberg and Hanks' WW2 drama transforms Hemel Hempstead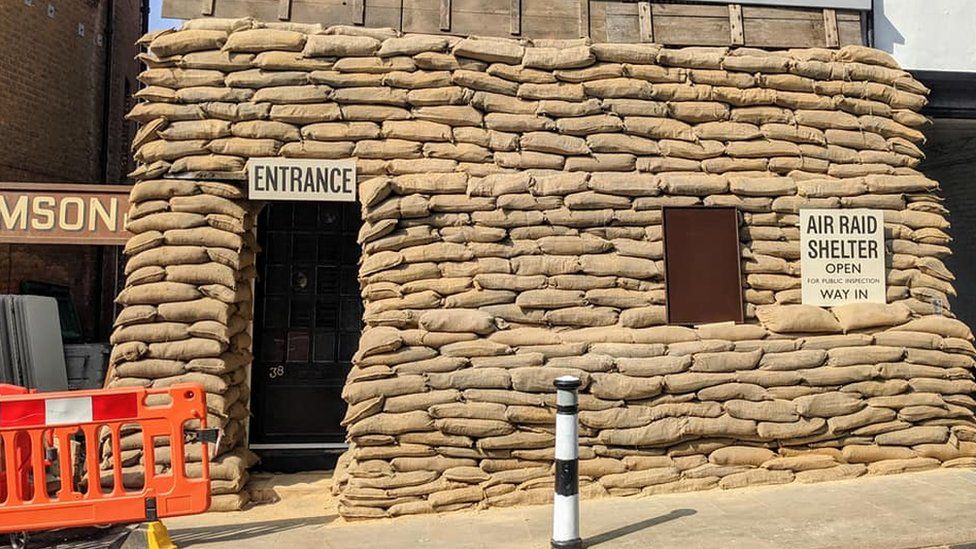 An English High Street has been transformed into the setting for a new World War Two series from Steven Spielberg and Tom Hanks.
Masters of the Air, which follows the US Eighth Air Force unit, is being filmed in Hemel Hempstead's Old Town.
Scenes were meant to be filmed in the Hertfordshire town at the beginning of August but were put back due Covid-19.
The Old Town has previously been the setting for Ricky Gervais' After Life, Endeavour and Grantchester.
It is being directed by Cary Fukunaga, whose credits include the new James Bond film No Time To Die, and he is behind the cameras for the first three episodes of the series.
The show is based on Donald L Miller's book Masters of the Air: America's Bomber Boys Who Fought The Air War Against Nazi Germany.
The Eighth Air Force, known as the "Mighty Eighth", bombed Berlin, Hanover, Leipzig and Dresden, and destroyed enemy targets including rail facilities and oil refineries, while also engaging in air-to-air fighter combat.
Hanks and Spielberg are executive producers on the series, which is being made by the companies behind WW2 dramas Band of Brothers and The Pacific.
Filming was completed in the Hertfordshire town on Monday and Tuesday.
In a letter to residents the production team said it would "hide signs of modern life" and keep disruption to a minimum.
Filming has also taken place in Oxfordshire, Buckinghamshire and Essex.
The series is due to be on Apple TV in 2022.
Related Internet Links
The BBC is not responsible for the content of external sites.