Priti Patel texts over Extinction Rebellion protest deleted in 'glitch'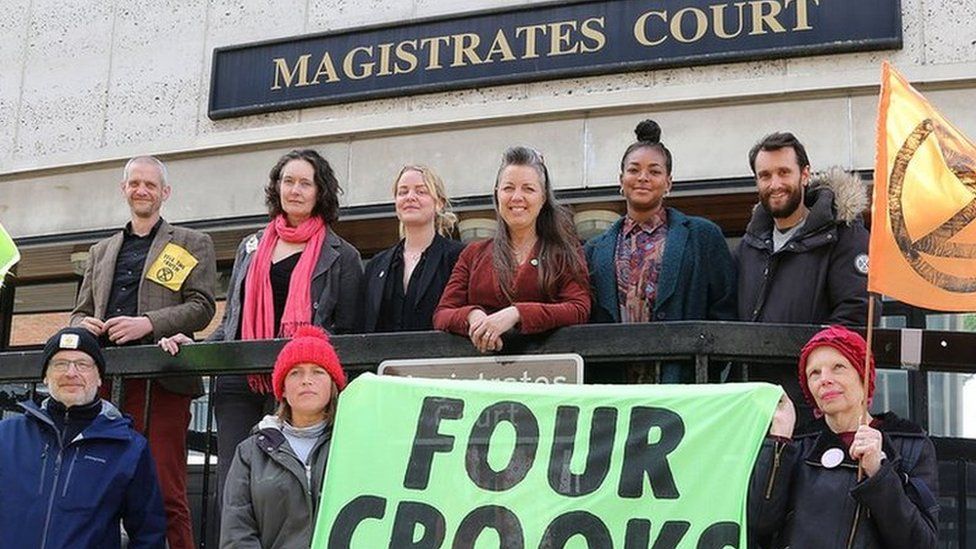 Text messages to police officers from the home secretary over the policing of an environmental protest were deleted in an IT "glitch", a court heard.
Arrests were made at a blockade of News Corp printing works by Extinction Rebellion in Broxbourne last September.
A lawyer representing some of the six defendants on trial said messages from Priti Patel had been deleted from the phones of "two very senior officers".
Raj Chada said the defendants "cannot receive a fair trial" as a result.
St Albans Magistrates' Court heard about 50 climate change activists began a demonstration outside Newsprinters, a subsidiary of Rupert Murdoch's News UK, which is just off the A10 in Hertfordshire.
It stopped three-and-half-million national newspapers from being distributed across the country.
In the second case from the protest brought to court, six people are accused of wilfully blocking the highway with bamboo structures to block deliveries.
The court heard there had been "significant contact and significant pressure" with and from the Home Office over policing of the demonstration.
Both Chief Constable Charlie Hall and gold commander Assistant Chief Constable Matt Nicholls had been contacted by Ms Patel by text and phone, but details of the conversations were not recorded or otherwise noted, the court heard.
Mr Chada said Mr Hall was "woken up" by a call from the home secretary at 23:40 BST on 4 September, and had another call "in the hours of darkness" on 5 September, but he had not made a record of either.
Mr Nicholls received text messages to his work phone in the late afternoon, but these had also been deleted.
Mr Chada added that a number of work phones had been "erroneously reset to factory settings after an IT glitch" including "two phones from two very senior officers in relation to the very issue at the heart of this case".
"The court is dealing with the effect of contact from the home secretary on that operation. We have its conclusions, but not what it based its conclusions on," Mr Chada said.
"We see in light of this the defendants cannot receive a fair trial."
District judge Sally Fudge refused a defence request to disclose screen shots of text messages between the home secretary and police and is due to rule on Monday on whether the details of further messages will be disclosed.
Laura Frandsen, 31, from London
Caspar Hughes, 49, from Exeter
Amir Jones, 40, from London
Charlotte Kirin, 52, from Bury St Edmunds
Hazel Stenson, 57, from Bury St Edmunds
Elise Yarde, 33, from London
Related Internet Links
The BBC is not responsible for the content of external sites.