Katie Locke inquest: First-date murderer was talking to 20 women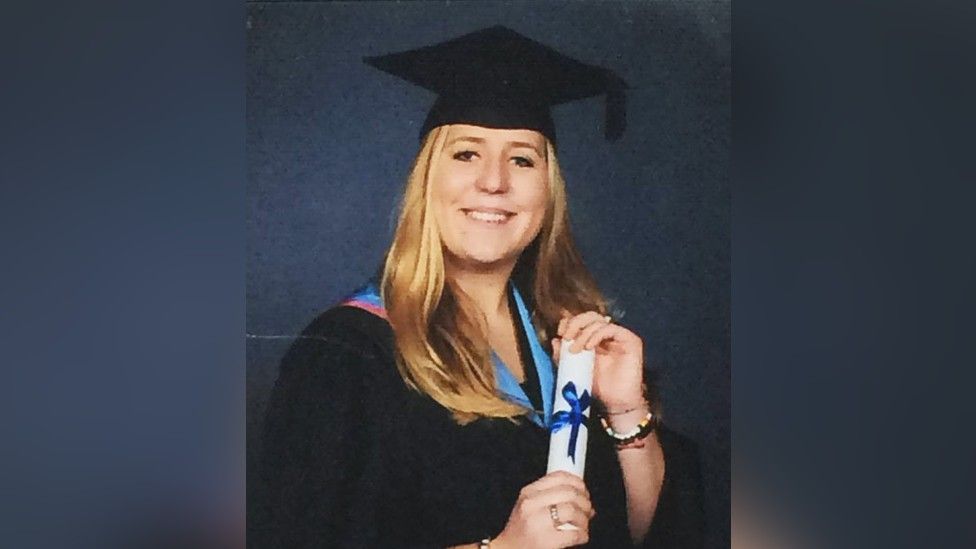 A "psychopathic" man who murdered a woman he met on a dating website was in contact with up to 20 women at the time, an inquest heard.
Carl Langdell killed Katie Locke and sexually assaulted her corpse on their first date at a Hertfordshire hotel on Christmas Eve in 2015.
A pathologist described the attack as "forceful and prolonged".
Ms Locke was unaware Langdell was serving a suspended sentence for threatening to kill two people.
Representing Ms Locke's parents, Nick Armstrong said Langdell was "dating multiple women across multiple websites" and "had used the hotel at least once before and had lied about who he was".
Hertfordshire Coroner's Court heard Langdell had told a community psychiatric nurse he wanted to cut a girl's throat, see her naked and have sex with her when she was dead.
The inquest heard of Langdell's history with police and mental health services.
In 2009, he was cautioned for assaulting a girlfriend and in 2013 he was regarded a risk to himself.
He assaulted his brother in 2014 and, in 2015, he threatened to kill his girlfriend's sister and a mental health worker in Avon and Somerset.
He was released on bail to Hertfordshire and was placed under the supervision of mental health services after threatening to kill himself. He was released from the unit in September 2015.
Hertfordshire Police Ch Insp Stephen O'Keefe said his bail conditions were not communicated to the force.
Three weeks before he murdered Ms Locke, Langdell received a suspended sentence for the threats to kill.
Ms Locke, a history teacher, was unaware of Langdell's history when they met on dating site Plenty of Fish. He had told her he owned a law firm, which was untrue.
The inquest heard the 23-year-old's cause of death was compression of the neck.
Pathologist Charlotte Randall said the killing was "accompanied by serious sexual violence".
Langdell, from Cheshunt, pleaded guilty to murdering Ms Locke, from Buckhurst Hill, Essex, and was sentenced to 26 years in prison in 2016.
Earlier this year, Langdell, 30, died at Wakefield maximum security prison.
Dr Philip Joseph, a forensic psychiatrist who examined Langdell, described him as "emotionally unstable" and said he had "psychopathic disorders".
"He got sexual satisfaction from controlling women," he said.
"It is likely the killing was sexually motivated. He had a callous unconcern for Katie Locke."
Related Internet Links
The BBC is not responsible for the content of external sites.