HS2: Chesham and Amersham by-election candidates' policies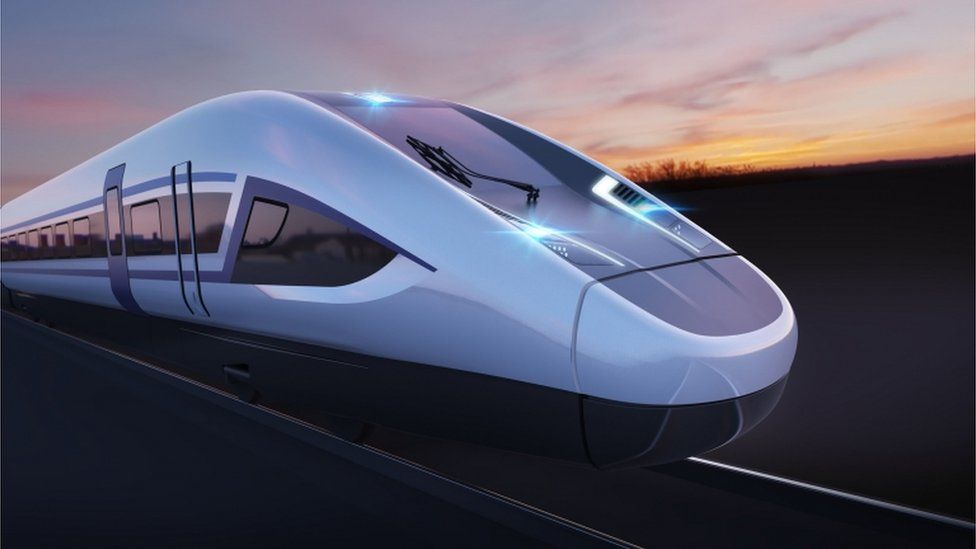 When voters head to the polls on Thursday to elect a new MP for Chesham and Amersham, one of the key issues will be the multi-billion pound HS2 railway project.
The by-election follows the death of Dame Cheryl Gillan in April, and had served as Conservative MP since she was first elected in 1992.
She spent years campaigning against the new high speed rail line from London to the Midlands and beyond, which had been a big talking point in the constituency since it was first proposed under the Labour government in 2009.
One of the parties standing, Reform UK, has described this by-election as a referendum on HS2, but with work under way and Royal Assent already given to the project, how could a new MP address voters' concerns?
The BBC asked the eight candidates (listed in alphabetical order by surname) what they would do if elected.
'This project has to end'
Carolyne Culver is the Green Party's group leader on West Berkshire Council and she has already campaigned to try to save Jones' Hill Wood and the Leather Lane oak trees near Great Missenden, which are being cleared for the project.
"Any candidate who tells you it's too late to stop HS2, isn't made of strong enough stuff to be your MP," she said.
"If elected, I would demand that people who have lost homes and land because of HS2 are compensated immediately.
"I would demand the lifting of gagging orders, which prevent residents, councils and even the Health and Safety Executive from speaking out.
"HS2 mitigation is a nonsense. You cannot replace ancient woodlands by planting saplings and dumping woodland soil in a field.
"In recent days, HS2 has been forced to disclose documents that prove our water supply and rivers are at risk from tunnelling. This project has to end."
An HS2 spokesman said non-disclosure agreements were only held with organisations in order to protect commercially-sensitive information, protect property from potential blight, or the personal information of those who may be affected by changes to HS2's design.
He added that the documents referred to "actually demonstrate HS2 Ltd is doing a considerable amount of work to account for all potential impacts of construction and taking every possible precaution. The project has introduced the latest tunnel-boring technology, and has spent over £100m enhancing water treatment capacity in the region to ensure the highest water quality in these areas".
'Financially and environmentally suspect'
Former Conservative MEP and diplomat, Brendan Donnelly, who lives in London, is standing for Rejoin EU and runs an educational charity.
He said that while he was "not speaking on behalf of the Rejoin EU party", personally he thought the HS2 project was "financially and environmentally suspect".
"I also think it has more to do with Conservative attempts to gain electoral advantage elsewhere in England than with good transport policy," he said.
"It's probably impossible now to prevent the project going ahead, but I would certainly support any initiative to lessen its damaging financial and environmental consequences.
"I hope in particular that European environmental standards will be the benchmark for HS2.
"Brexit must not be an excuse of falling short of the highest possible standards."
'Continue Dame Cheryl's great work'
Conservative Peter Fleet is a businessman who stood in the 1997 general election in Southampton and has said he wants to work to "protect the special character" of the area which includes "minimising disruption from HS2".
"I live in the constituency so I have long been opposed to HS2, while not a single Lib Dem MP voted against it in Parliament," he said.
"My focus is on continuing Dame Cheryl's great work to minimise the disruption.
"I'm demanding green bridges for wildlife to cross the tracks, and a redesign of that awful vent shaft at Old Amersham.
"We've got the most beautiful green spaces in the country and I want to keep them that way so, if I'm elected, I'll work with ministers and the Chilterns Conservation Board to put extra protections in place.
"I'll start by campaigning to elevate our Area of Outstanding Natural Beauty into a national park - the Chilterns National Park."
Sarah Green, who runs her own business and lives in the constituency, is standing for the Liberal Democrats. She has previously stood twice for Parliament in Wales - in Ynys Mon (Anglesey) in 2005 and in Arfon, in Gwynedd, in 2010.
"For me, HS2 is a big no. If elected, I will be a thorn in the side of this government and HS2 contractors," she said.
"There are genuine fears that tunnelling could damage the chalk streams, which provide drinking water to thousands of local people. I'm calling on these works to be halted, so that concerns about the water supply can be properly addressed.
"Sadly, during this Parliament MPs will not have a vote on HS2, however there will be a chance to reject the government's new planning laws which would see more unwanted destruction to our countryside.
"Just like HS2, this Conservative government wants to allow developers to build over our greenbelt with local residents powerless to stop them.
"After the pain from HS2 works, the new planning laws would be a devastating blow to our area."
The HS2 Ltd spokesman said: "Tunnel-boring machines have been specifically designed to operate in this geology with an expert team monitoring their progress to ensure that there isn't damage to the aquifer.
"During construction of the tunnels, the majority of the water used will be drawn from Thames Water's supply, which unlike Affinity Water's supply, does not come from the aquifer. No water will be drawn from chalk streams."
Work on the new super-fast railway line, known as HS2, began in September 2020 after Prime Minister Boris Johnson granted approval earlier in the year
Phase 1 of the project, which is already under way, will be between London and Birmingham, while the second phase will extend the route further north to Manchester and Leeds
Trains will travel at speeds of up to 250 mph (400km/h), cutting journey times
When the project cost was set out in the 2015 Budget it came in at just under £56bn but an official government report has since warned that it could cost more than £100bn, and be up to five years behind schedule
The whole HS2 project is due to be completed by 2040 with the first part between London and Birmingham finished by 2031
HS2 says it employs over 13,000 people with 400 apprenticeships, and tens of thousands more jobs supported through the supply chain
Those who support the project say it will improve transport times, create jobs and help the country's economy
Critics are concerned about how it will have an impact on wildlife, the countryside, people's homes and the public purse
'It isn't too late to stop HS2'
Carla Gregory from the Breakthrough Party works in the charity sector and was born and raised in the area.
"Until the first train has gone down the track, I believe that it isn't too late to stop HS2," she said.
"Local groups, residents and politicians are all struggling to get answers to their concerns regarding damage to the aquifer and drinking water from drilling.
"I would use my voice to amplify those concerns.
"Long term, I would like to see it replaced with a green council housing project which is what we really, really need."
High Wycombe-born Adrian Oliver is representing the Freedom Alliance and now lives in Downley after many years away, during which time he was elected as a councillor in London in 2006.
"I'm a former Green Party councillor and I've been against HS2 from the start - but it is happening," he said.
"Talk about it in this by-election is a distraction from the massive issue faced by everyone and every business in Chesham and Amersham, and that is dealing with the consequences of this Conservative government's disastrous restrictive policy regime over the last 14 months.
"Policies which amount to psychological, biological and economic warfare against the people of this country.
"These policies should have been opposed, but have been supported by Labour, Lib Dems and the Green Party, so they along with the Conservative government are culpable for the unnecessary deaths, economic destruction and the terrible suffering caused."
'HS2 must listen to our community'
Labour's Natasa Pantelic, is a former primary school teacher and a councillor in Slough, where she lives.
"I want to ensure the government really listens to what our community wants," she said.
"And one of the first things I'll do is call a meeting between HS2, the secretary of state for transport and locally-elected members to discuss the work that's taken place so far and feed back the concerns that I've heard.
"I'm really keen to pull together a local plan to make sure there's action on what residents want, including building new habitats and planting trees where those have been lost.
"I'll be asking for more money for our area so we can invest in places like our High Streets and gain assurances that any ideas and further development around HS2 will be heavily consulted upon.
"I'll be working really hard to represent residents throughout construction and into the future."
Alex Wilson, from Reform UK, has worked for HS2 Ltd and lives in east London.
He has said that from his time working there, he knows HS2 has "scant regard for taxpayers' money" and is "a project with minimal benefit for the country as a whole".
"HS2 is out of control, its budget has spiralled and in the post-Covid world, the economic case will be weaker than ever," he said.
"Reform UK's position is clear. HS2 is unwanted, unnecessary and unaffordable.
"Unlike the main political parties, we are against it in both principle and practice. We want it cancelled.
"Although a single by-election in one constituency cannot, on its own, change the national government, we can send a very strong message to Westminster that on this major issue, all the main parties have got it wrong."
Related Internet Links
The BBC is not responsible for the content of external sites.