Bedfordshire: 'Under-funded' police concerns prospective PCCs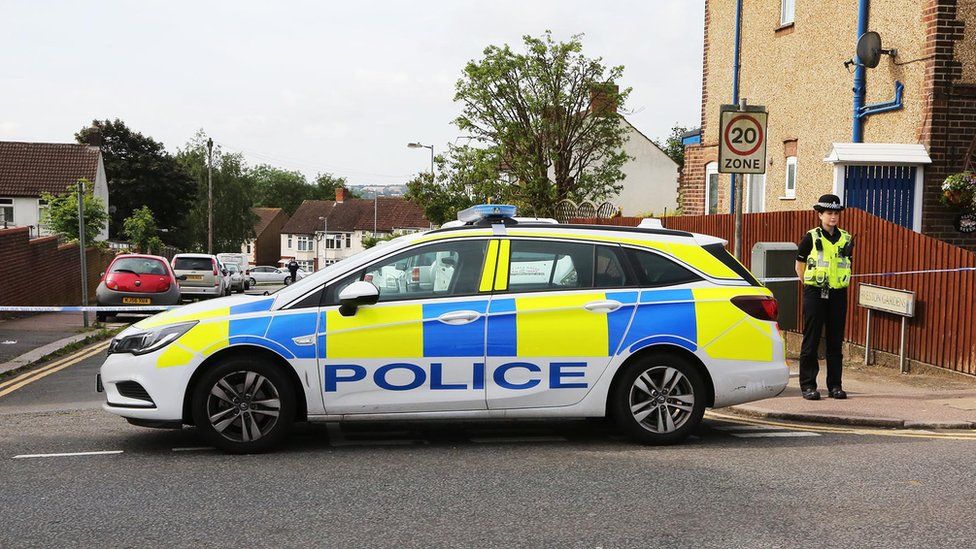 On 6 May, Bedfordshire will be electing its third police and crime commissioner (PCC) since the post was created in 2012. The outgoing PCC, Kathryn Holloway, of the Conservatives, has highlighted the force needs to make £6m savings over three years. What do the candidates make of the current financial situation?
The candidates are listed below alphabetically:
Festus Akinbusoye, Conservative
Mr Akinbusoye, 42, lives in Central Bedfordshire, runs his own security business and served as a special constable in the county.
He said the force was under-funded by central government and had between 200 and 300 fewer police officers than it needed, because "we are currently funded as a rural policing area".
He said the force needed to be as "efficient" as possible, but "we need to deal with the underlying funding formula".
"I will keep on banging on the door of the home secretary and the policing minister to make sure the planned funding formula review goes ahead," he said.
"We need to invest more in community-based and community-led policing, where officers are amongst the community, visiting businesses, where they're attending local events and they have that visible presence.
"If we're building relationships, we're empowering communities. We're encouraging them to provide us with intelligence and information in confidence, knowing that something will be done about it."
Patrick Hammill, independent
The 67-year-old, from Houghton Regis, was standing as an independent as he believed "policing should be free from party politics".
Already an independent councillor at Central Bedfordshire Council, where he sits on the development management committee and the Houghton Regis town partnership committee, he has a family member who has been a Metropolitan Police officer for 21 years.
"The county is very under-funded. It is funded as a rural small police force when we have urban crime issues in Luton and Bedford, and the crime levels require us to be funded to the maximum," he said.
"I would be fighting to fight those savings. I would be putting that to the voters.
"We need more officers to tackle crime across all of Bedfordshire.
"We need to look at Bedfordshire holistically and distribute resources as evenly as possible."
serves a population of about 665,000 people, with more than half living in the towns of Luton and Bedford
the county includes London Luton Airport and the M1 and A1(M) motorways
the Beds Police website says the county has "a complex mix of volume crime, serious crimes, drugs, gangs and terrorism threats"
the county has "some areas of deprivation" but is "generally affluent", according to Her Majesty's Inspectorate of Constabulary.
the Beds Police budget is £127.4m for 2021-22
it currently has 1,298 police officers, up from 1,083 in March 2016
Mr Michael, 67, lives in Luton and is a retired police officer, who served in the Metropolitan Police for more than 30 years.
He said the force was under-funded and he would make an "evidence-based presentation to central government to reconsider how they fund Bedfordshire Police".
He said the Home Office's funding formula "miscategorises Bedfordshire as rural police service, when we know the level of serious and violent crime does not reflect that".
His priorities were to "engage with local residents, wherever and whoever they are, whatever their backgrounds, to listen to their issues and concerns and prioritise those".
He believed a "holistic approach", where the police and local groups work together, was key.
"I give them [the electorate] the reassurance that I care about them and I will respond to every bit of the county whatever the issues and circumstances, because there's nothing worse than people not having trust and confidence in either the police and crime commissioner or the chief constable," he said.
Jas Parmer, Liberal Democrat
The 63-year-old lives in Clifton near Biggleswade. He was a Metropolitan Police officer for five years and has been a serving postmaster in Kempston for 33 years.
"Luton and Bedford have the same issues as big inner cities and we need fair funding for that," he said.
"What we have had in the past is just grants, and grants are not a sustainable way of running a police force."
He said without proper funding "Bedfordshire is doomed", and he would try to change this by lobbying the home secretary every week.
He said he wanted to create mobile police stations, where police were "in the community" and more pro-active than re-active.
"Visible policing is the best tool to prevent crime, and prevention is always better than cure," he said.
Antonio Vitiello, English Democrats
Mr Vitiello is a law graduate and, as well as being raised by a police officer, said he had served as a member of Thames Valley Police's volunteer support team.
He said he was opposed to plans to "asset-strip police stations to be sold off for houses, which are only needed because of the British political establishment's (Lib, Lab, Con) failure to control mass immigration".
He believed Bedfordshire was under-funded, along with "every police force in England".
"The British government sends too much of our English taxes to Scotland and Wales, whilst asset-stripping England," he added.
The Home Office has been asked by the BBC to comment on the police force funding formula as it applies to Bedfordshire.
Related Internet Links
The BBC is not responsible for the content of external sites.