Leah Croucher: 'No lead' in 'bewildering' 2019 disappearance
Two years after a teenager disappeared, police said there had been "no significant lead" and the case was "bewildering and frustrating".
Leah Croucher was 19 when she was last seen on CCTV on the morning of 15 February 2019 in Milton Keynes.
Despite extensive searches, no trace of her has been found and no-one has been arrested in connection with the case.
Police said they retained an "open mind" but "the potential that Leah is no longer alive has to increase".
Ms Croucher was last seen by her parents at the family home in Quantock Crescent at 22:00 GMT on 14 February.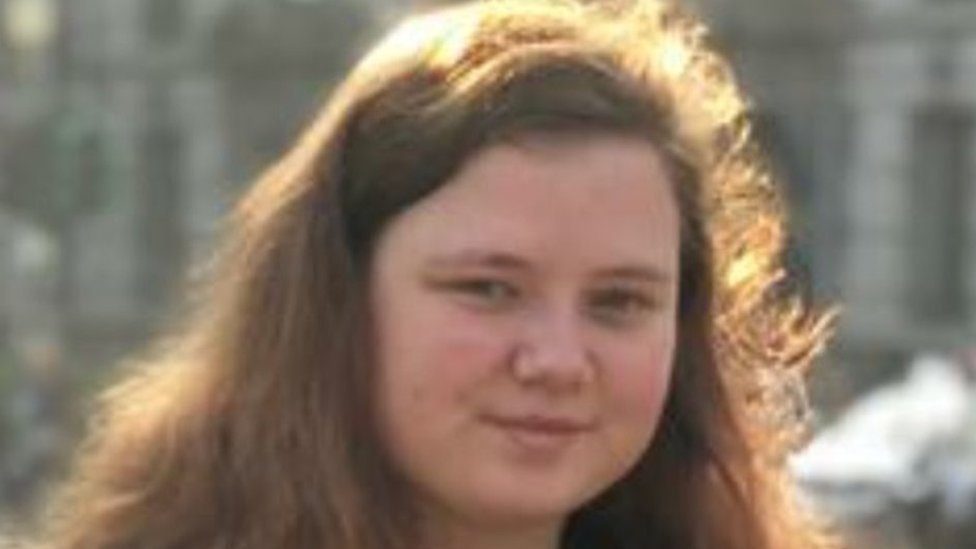 Thames Valley Police
The search for Leah Croucher
4,000properties visited in house-to-house inquiries.

1,200hours of CCTV reviewed.

600reports of information and potential sightings from the public.

400 separate searches across Milton Keynes.
Source: Thames Valley Police
Earlier that evening, after returning from work about 17:45, she got changed and went out, returning home at about 19:15.
It is still not known where Ms Croucher went or whether she met anyone that evening.
Her parents last saw her when she went to bed.
It was "the last time I got to say goodnight", her mother Claire Croucher said.
CCTV showed Ms Croucher walking down Buzzacott Lane in Furzton - believed to be in the direction of her work - at 08:16 the next day.
She never arrived at work - disappearing without trace.
"From that point on we've had no confirmed sightings of Leah," said Det Ch Insp Andy Howard, leading the investigation for Thames Valley Police.
The disappearance of Leah Croucher
The location settings on her mobile phone are disabled as she walks home from work on 14 February 2019.
She goes out at about 17:45 GMT, returning at about 19:15. Police do not know where she was during this time.
Her parents last see her when she goes to bed at about 22:00.
15 February - she is seen on CCTV in Furzton walking in the direction of her work at 08:16.
A woman believed to be Ms Croucher is seen in Furzton near an area known locally as Teletubby Hill at about 08:20.
Her phone leaves the mobile network at about 08:34.
She does not arrive for work and is reported missing that evening.
Speaking on the second anniversary of her disappearance, he said the investigation had been "large-scale".
Police had received "in the region of 600 pieces of information - be that information about what's possibly happened to Leah or reported potential sightings", all of which had been investigated.
"However, none of them have provided a significant lead to allow us to establish what's happened to Leah," he said.
"At the moment there are no new current lines of inquiry.
"After all of this time with no contact, no positive sightings, no financial transactions, no social media and no phone activity, the potential that Leah is no longer alive has to increase.
"But as long as there is hope that Leah is still alive, we will be positive and hope.
"Mystery really is the word. It's bewildering and frustrating," he admitted.
"Somebody must have seen her that day, yet despite all of our efforts nobody's come forward to give us that confirmed sighting."
A large part of Milton Keynes and the surrounding area has been searched by police, including lakes and culverts.
"We're now at a stage in the investigation where we are reliant on somebody coming forward with information about seeing Leah, knowing Leah, or knowing what has happened to Leah, and hence that's the focus of our appeal now."
Friends had spoken to officers about anxiety issues Ms Croucher was having at the time, Det Ch Insp Howard said.
"It's possible that Leah has made a conscious decision and she's acting of her own accord, but I also will not preclude the role of a third party being involved in Leah's disappearance."
A £10,000 reward "for information that leads to Leah being located" remains in place.
Her family is still being supported by officers.
Related Internet Links
The BBC is not responsible for the content of external sites.