Covid-19: Mary Agyapong's widower says pregnant women have been 'neglected'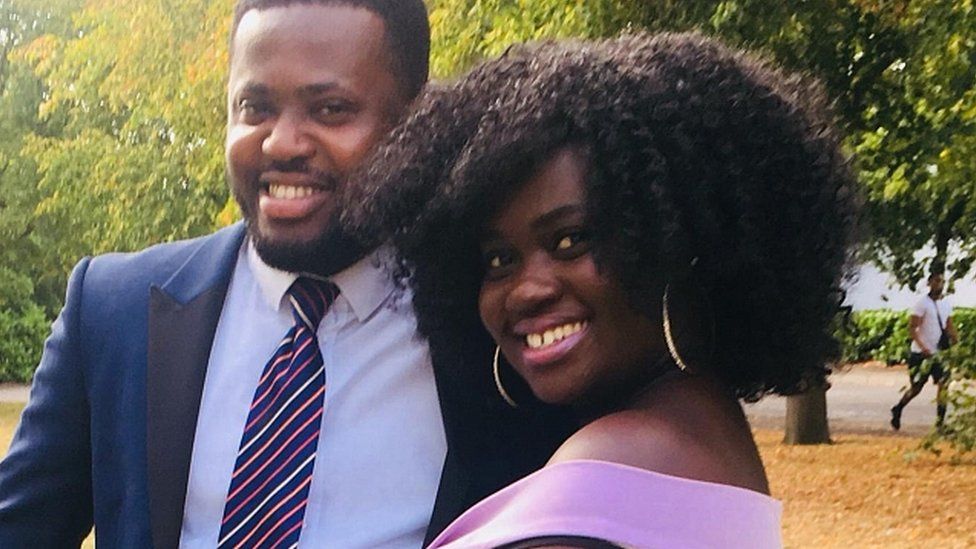 The husband of a nurse who died with Covid-19 after giving birth has said pregnant women have been "neglected" during the pandemic.
Mary Agyapong, 28, died on 12 April after an emergency C-section at Luton and Dunstable Hospital.
Her widower, Ernest Boateng, set up a petition calling for extra protection for pregnant women during the pandemic.
A government spokesperson said it was "urging" employers to be "as flexible as possible" with pregnant staff.
Mrs Agyapong was admitted to hospital after suffering from a shortness of breath, and was discharged on 5 April.
Two days later she was readmitted and surgeons delivered her baby, also named Mary, before she was transferred to the intensive care unit where she died.
Mr Boateng's petition called for women to either work from home once they were 20 weeks' pregnant, or be suspended on full pay.
It was presented in Parliament on Wednesday after receiving more than 100,000 signatures.
"I strongly believe Mary should still be here - she shouldn't have died," he said.
"Something should have been done a long time ago - these people have been neglected."
Mr Boateng said he believed his wife should not have been working, particularly during her last trimester.
"If you look at the consistency of how she was working, how tired she was feeling and the complexity of her pregnancy as well - she was struggling," he said.
"I believe if she wasn't working and she contracted Covid, her immune system could have fought it. I believe things would have been different."
A government spokesperson said: "We recognise that this is a difficult time to be an expectant mother, and as part of [an] employer's obligation to carry out a risk assessment for all their workers, we are urging them to be as flexible as possible in how they support pregnant staff members.
"This includes providing flexible working and home working arrangements, as well as considering requests from parents to be furloughed, which is at the employer's discretion."
NHS information on pregnancy and Covid-19
There is no evidence that pregnant women are more likely to get seriously ill from coronavirus, but mothers-to-be have been included in the list of people at moderate risk as a precaution
Pregnant women are advised to wash hands regularly, stay home as much as possible and stay away from anyone with symptoms
Women are recommended to go to all of their antenatal scans and appointments unless told not to
There is no evidence coronavirus causes miscarriage or affects how your baby develops in pregnancy
Women with symptoms of coronavirus are advised to give birth in a unit led by a doctor
Mr Boateng said dealing with the loss of his wife while raising their two children had been "really tough".
"Having just a few days old baby on your own and also having to deal with a two-year-old son who keeps asking you where his mum is has been really difficult," he said.
The 30-year-old said he was speaking out for pregnant women as he did not want another family to experience what he had.
"I am doing it in Mary's memory because I believe she should still be here," he said.