Covid-19: Tier 3 restrictions for Broxbourne 'worst-case scenario'
By Kris Holland & Craig Lewis
BBC News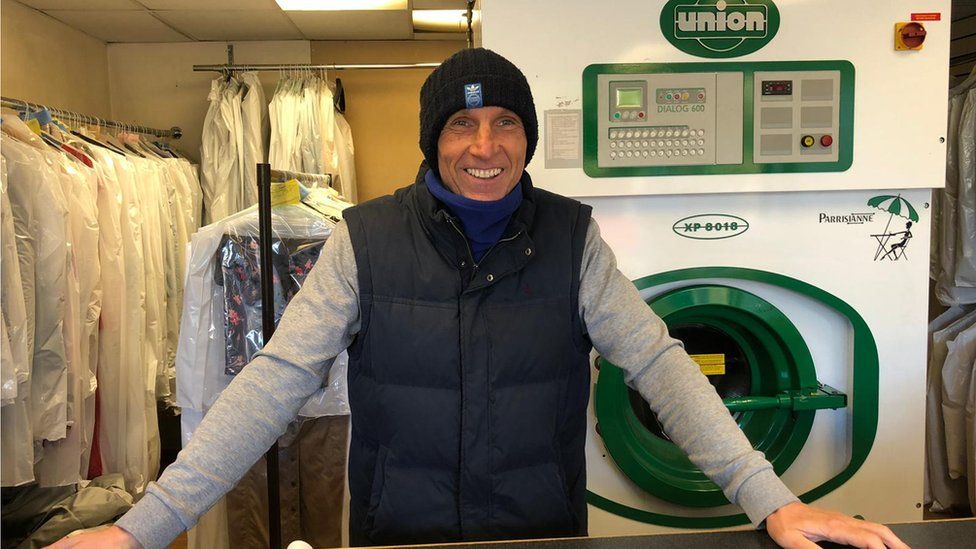 From Wednesday, south Hertfordshire will be under tier three of the coronavirus restrictions - the strictest available. The BBC visited Broxbourne, which has the 11th highest rate of Covid-19 cases per 100,000 people in England, to find out what people made of the news.
"It's the worst-case scenario for us," says launderette owner Lee Judges.
Mr Judges, whose Impressive Dry Cleaners business has been a feature of the town centre for 10 years, says the coronavirus pandemic has been "a complete and utter nightmare".
The south Hertfordshire districts of Broxbourne, Hertsmere, Three Rivers and Watford will move into England's highest tier of Covid-19 restrictions, alongside London and parts of south Essex, from 00:01 GMT on Wednesday.
Broxbourne itself has been one of the areas worst hit nationally for Covid-19 cases.
In the week up to 10 December, the infection rate was 446 cases per 100,000 people.
Mr Judges says the dry cleaning business has suffered throughout 2020 - with fewer clothes requiring cleaning as people stopped working from offices, weddings were cancelled and Christmas parties taken online.
"It's not realistically worth being open," he says.
"We were just starting to get back a little bit normal before the last lockdown, but tier three is going to stop people going out."
Mr Judges says something needs to be done to stop Covid in its tracks - "it is rife at the moment" - but adds businesses were struggling due to a lack of the government grants that propped them up during the first lockdown.
"The High Street is very vibrant normally," he says. "This has been a really good business, but it's on its knees.
"I was thinking, just get over Christmas and maybe things are going to start to pick up, but now we are in tier three. The uncertainty is killing us."
'Something missing' from my life'
The move to tier three also means the end of crowds at live sport events.
Watford FC, about 28 miles (45km) from Broxbourne, have been able to invite up to 2,000 fans to home games in recent weeks. This will be the case later when they host Brentford, but after that it will be back to playing in front of an empty stadium.
Justin Beattie, who runs the Do Not Scratch Your Eyes podcast with fellow Hornets fan Carl James, says: "It is something missing from my life.
"Fans are really frustrated."
Mr Beattie was drawn out of the ballot to attend Watford's game with Rotherham last week and said he was sat five seats away from anyone else.
"I can understand why they are doing it, but it seems silly when the stadium can hold 20,000 people," he says.
'It will be like cutting their wings'
Town centre shopper Marta Kulza says the government has been caught between imposing restrictions to curb the virus and keeping businesses open which might otherwise "die after a while of being shut".
She says entering tier three just before Christmas would be "really hard".
"That is the time when owners are usually earning more money," she says. "For them it will be like cutting their wings.
"We have to behave, even though it is Christmas and family time. It's good to follow the instructions.
"It's really hard for some people, like being in a cage. You cannot travel to discover anything."
'I've been in the overdraft for two months'
The Highland Steakhouse & Carvery has been in Jimmy Demetriou's family since 1974.
He took over the business in April last year, but 2020 and Covid-19 have seen restrictions shed the restaruant of two-thirds of its capacity.
Jimmy is critical of the government's tier system and the rules which controlled the second lockdown.
"It didn't really seem we were in lockdown apart from the fact you couldn't go out to eat at a restaurant," he says.
"Prior to the lockdown we were in tier one, then we ended up in tier two. The tier system was a failure and the lockdown was a failure."
He adds: "Being in tier two meant all the friends who would usually have come out for a Christmas party couldn't. We are left with single-family households, and now in tier three we can't even have that.
"We do a little bit of takeaway, but essentially we are not a takeaway restaurant.
"I've pretty much been in the overdraft for the last month or two. We just aren't getting enough customers to boost the bank account."
What are tier three (very high) rules?
You cannot mix indoors, in private gardens or in most outdoor venues, except with your household or bubble
You can meet in a group of up to six in other outdoor spaces, such as parks, beaches or countryside
Shops, gyms and personal care services (such as hairdressing) can stay open
Bars, pubs, cafes and restaurants must stay closed, except for delivery and takeaway
Sports fans cannot attend events in stadiums
Indoor entertainment venues - such as bowling alleys and cinemas - must stay closed
People are advised not to travel to and from tier three areas
'I worry for young people'
At Broxbourne Station, artist Chris Hoggins has just returned from the south coast where he has been working.
He says the increased restrictions would not significantly change his life.
"I lead an incredibly quiet life," he says. "I don't go out much and I feel bad because it doesn't affect me that much.
"It's the young people I worry about. They want to go out and do things, and it's scuppered."
Mr Hoggins, who has written a book about coronavirus, called Covid Visual Diaries, says he had been surprised by how different people were affected by different things.
"You suddenly see someone with a paper bag on their head," he says.
"You wonder, is it a mask? Is it a face covering?"