Covid-19 tiers: Bedfordshire, Hertfordshire and Buckinghamshire in tier 2
All of Hertfordshire, Bedfordshire and Buckinghamshire will be in tier two when England's lockdown ends on 2 December.
All other areas were in tier one.
Non-essential retail outlets, places of worship and leisure facilities will reopen in line with government guidance.
Hospitality settings that serve alcohol must close in tier two, unless they operate as restaurants and alcohol can only be served with substantial meals.
Prior to the second lockdown, Luton Borough Council placed the town in tier two after a "worrying" number of admissions to hospital and a rise in deaths.
It is one of the areas which has received the new rapid "lateral flow" tests, for mass testing.
Lucy Hubber, interim head of public health, said "deprivation, and multi-generational households with lots of people living in them" were factors in Luton's high case rate.
"While there has been a levelling off in the infection rates over the last week due to the sacrifices people are making, our rates are still too high with large numbers of new positive cases being reported each day," she said.
Luton's Labour council leader, Hazel Simmons, said the fact the town's rates had levelled off was "encouraging" but they had not decreased as much as other parts of the country during the current lockdown.
"As a town we have worked together in the past to lower infection rates and we are confident we can rise to the challenge again," she said.
The rate in Luton was just below 300 cases per 100,000 people in the week to 21 November - the highest in the Eastern region.
Luton has seen a fall in cases week-on-week, but now has the 61st highest rate in England.
All other districts in Bedfordshire, Buckinghamshire and Hertfordshire have fallen week-on-week.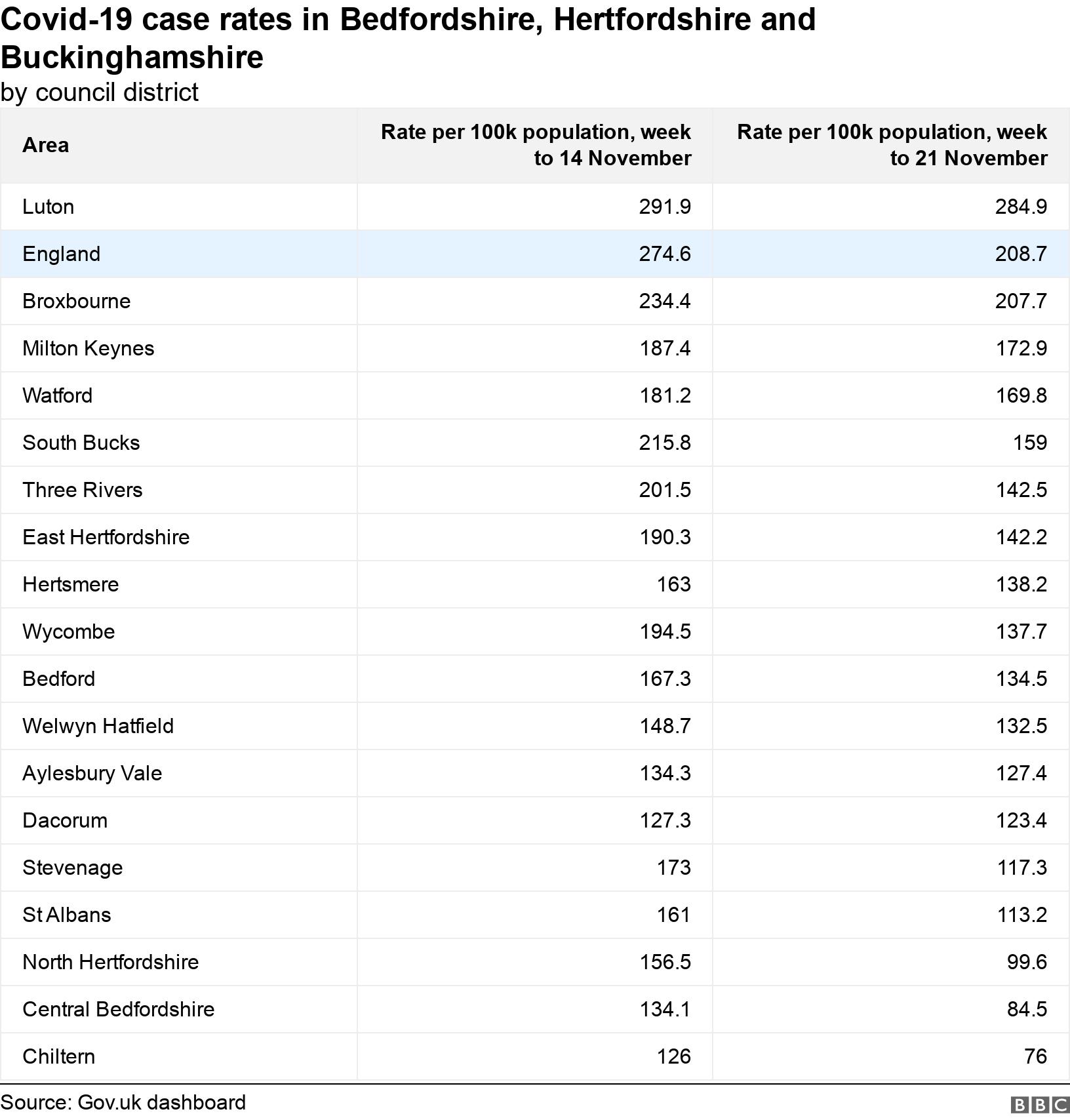 The whole of Hertfordshire will be in the same tier, even though there is a range of case rates across the 10 district areas in the county.
David Williams, Conservative county council leader, said the decision was based on "a series of indicators that reflect the continued prevalence of the virus in the county".
"Now it is more important than ever that we redouble our efforts to ensure that the recent downward trend in our infection rates is sustained in order to secure a move to tier one as soon as possible," he said.
Peter Taylor, Liberal Democrat elected mayor of Watford, said: "Despite seeing a plateau in the number of cases locally, the numbers are still higher than where we want them to be.
"But we have been making progress recently in ensuring the case numbers are not rising, so we must continue to do what we can to not go backwards."
Andrei Lussmann, from the restaurant group Lussmanns, said: "Restaurants are the safest social places in the country as far as Covid is concerned, with provable low transmission rates.
"Restaurants are just not where the problem is and all the evidence has shown this so I feel like the restaurant sector has been held to ransom unfairly and unnecessarily."
Christo Tofalli, landlord of Ye Olde Fighting Cocks in St Albans, said: "We will open and do the best that we can to welcome our families and guests in their bubbles over the festive period, but when we opened after the last lockdown, we only took 20% of our usual takings and this barely covers the costs of opening the doors."
Analysis: Andy Holmes, political reporter, BBC Three Counties Radio
The government has chosen to divide Beds, Herts and Bucks up into counties for Covid restrictions, meaning everybody is in tier two.
The decision might seem harsh to people living in parts of Central Bedfordshire which has Covid rates per 100,000 people that are much lower than their neighbours in Luton.
In fact, Luton has rates that have topped 300, whilst Central Beds is down at 84.5, although the government doesn't just look at those rates when working the tier system out.
Hertfordshire is also combined, despite districts like Broxbourne being up at 207, whilst North Herts is down at 99.6.
The government plans to review the tier system at fortnightly intervals.
In his rationale for tier allocation, Health Secretary Matthew Hancock said Bedfordshire and Milton Keynes were in tier two because the overall case rate was still increasing and there was pressure on the local NHS.
He added there was a "broadly stable or improving picture across Buckinghamshire" with a case rate at 138 per 100,000 of the population, but the case rates remained too high for allocation to tier one.
Buckinghamshire's Conservative council leader Martin Tett said: "Whilst it is disappointing not to have remained in tier one, we recognise that we must all cooperate in order to retain the advances made during the current lockdown and help save lives."
The EFL has been looking at the possibility of shifting some of next week's fixtures to take advantage of the plan.
Luton Town FC manager Nathan Jones said that potentially having 2,000 Hatters fans in the stadium on Wednesday was "wonderful news if we can get all the processes in place".
"We get just over 10,000 [fans usually] and it's like it's 45,000 so I'm sure 2,000 can do a great job," he said.