Leighton Buzzard hit by two earthquakes in one day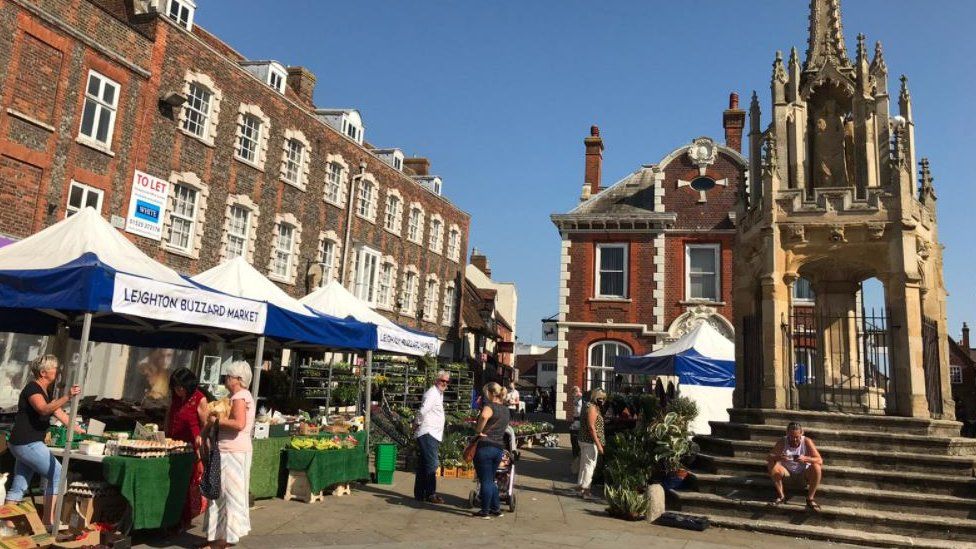 A town in Bedfordshire has experienced two earthquakes in one day.
It is the third and fourth time people in Leighton Buzzard have felt tremors in the space of two weeks.
The British Geological Survey (BGS) confirmed a 3.0-magnitude earthquake happened just north of the town at about 09:30 BST and a 2.1-magnitude tremor occurred at about 13:40.
People reported their houses "jolting and shaking" when the larger quake struck.
Since 8 September there have been four earthquakes in the town, the BGS confirmed.
A 3.5-magnitude earthquake was felt by residents on that day, followed by a 2.1 magnitude tremor on 13 September.
Glenn Ford, a BGS seismologist, said the latest two tremors were aftershocks from the first incident, but were "earthquakes in their own right".
Tuesday afternoon's tremor was "20 times smaller" than the one in the morning, but a few people had reported it to the organisation, he added.
Matt Stewart, who lives about 1.5 miles (2.4km) from Leighton Buzzard in Eggington, was one of those who felt the larger earthquake, and said the tremors "almost shook me out of bed".
"It was as big as the first one, I think," he said. "My wife ran downstairs and said, 'oh no, not another one'.
"It felt like a whoosh and then a boom coming up through the earth, then it shook the house and a couple of pictures fell off the wall upstairs, like the last time."
Mr Stewart described it as "a horrible feeling".
"You're just not in control and I'd like to know what's going on, as this is the third one - it's very strange."
The BGS said its provisional data suggested the earthquake originated at a depth of about 6.2 miles (10km).
'San Andreas fault of Bedfordshire'
The earth did not move during the morning's tremors quite as much as when the first earthquake hit two weeks ago at magnitude 3.5, was the general opinion of people shopping and working in the town.
Wesley Venn said: "I was sat in the garden having a lovely cup of tea when all of a sudden I saw the fence shaking."
He described it as "a little tremor, just to remind us that there are earthquakes about, apparently - in Leighton Buzzard".
He added that "the earth didn't move for me" during the second quake - which he slept through - but he felt the other larger ones.
"I don't know if we're the San Andreas Fault of Bedfordshire... but it's a claim to fame.
"We will rebuild - where a plate fell off the shelf - we will rebuild."
Carrie Wainer, who works in a gift shop, said she heard "a massive bang", adding "that was about it for us".
"With what 2020's bringing us, this is just another one added on."
Model railway store owner Anthony Rosier said there were "two large bangs, the walls and units shook - then peace and quiet".
The latest tremors had been "a talking point" and "brings the buzz back" to Leighton Buzzard, he said.
Mr Ford said: "It's not an unusual thing to be seen in the UK... this relieves the built-up stress in the rocks."
They were "nothing to do with fracking or anything like that," he said.
"It's typical British tectonic activity that's been going on for hundreds of years."
Mr Ford said the UK experiences about 200 to 300 earthquakes each year, but 90% are "so minor that people can't perceive them".
While the UK has a few quakes of the same magnitude as Leighton Buzzard each year, it was "absolutely tiny on the scale of worldwide earthquakes" and "more than a billion times smaller than the one that hit Japan in 2011".
He added: "If they felt this one in Japan, they wouldn't even look up from their morning coffee."
Dr Matthew Blackett, an earthquake expert from Coventry University, said the Leighton Buzzard tremors were likely caused by the fracturing of solid rock in "hidden fault lines", several hundred metres below the surface.
"What seems to have happened is that this was an initial earthquake in a hidden fault - some stress or other has caused it.
"These two subsequent events are a readjustment of the fault lines to come back to some sort of stability.
"The crust has to adjust itself to become stable again, that seems to have happened to the poor people of Leighton Buzzard.
"It is quite possible that that sequence is now done, but it might be that there are still stresses there.
"If there are [further tremors], I think it will only be minor events."
Related Internet Links
The BBC is not responsible for the content of external sites.