Luca Campanaro: Teenager's organs 'save four lives'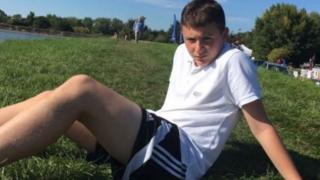 The mother of a teenage goalkeeper who suffered a brain injury during a match is appealing to parents to talk to their children about organ donation.
Luca Campanaro, 14, from Aylesbury, was injured in a collision while playing for Bedgrove Dynamos in December. He died a day later.
His family revealed Luca's organs saved four lives - including a baby girl.
Joanne Campanaro said: "Have the conversation - because the unthinkable can happen."
An inquest recorded a verdict of accidental death.
Luca collided with a forward during the under-15 match against Harefield United in Hillingdon, west London.
"You expect broken arms, broken ribs, broken legs," his mother said. "He was a goalkeeper, you would expect some injury.
"When he went down, there was no way I was thinking that he was not coming home."
Ms Campanaro said she had spoken to her son about the issue during a television programme about organ donation.
" I asked him what his choice would be if something happened to him, would he want to help someone else?" she said.
"He sat there and pondered and then said: 'I think I would.'"
She added: "It was just a random conversation and not for one second did I think I would have to go back to it."
Ms Campanaro - who also has a 12-year-old son, Santino - said she had received a letter from the parents of the baby, who is doing well after receiving part of the teenager's liver.
"If I can help one family in that position, where the question of organ donation is dropped on them at an awful time, it is a good thing," she said.
You may also be interested in: