Baby seriously injured in Luton flat window fall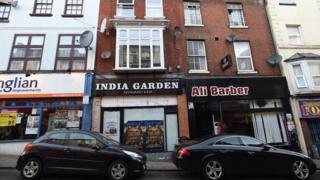 A baby has been taken to hospital with life-threatening injuries after falling from an open window of a first-floor flat.
Emergency services were called to Wellington Street in Luton at about 13:00 BST.
Jason Watkins, who works in the street, said he had been told it was a boy who was hurt. He said the road was closed but had since reopened.
Police have asked anyone who was in the area at the time to get in touch.
The child's age or sex has not been confirmed by Bedfordshire Police.
Albert Constantin, 32, a barber who has a shop nearby, said he saw the boy on the ground and a lot of people crowded around.
He heard one woman, who came to help, on the phone to the emergency services and she was told to put the baby on his side.
Albert Popescu, 32, a builder from Luton, said he was in the street when he heard a woman, who he thought was the child's mother, screaming "help me, help me".
"We all gathered round while we saw the baby being put on its shoulders by a man. There was silence for a minute or two, before the baby started crying."
George Feron, 44, the manager of Luton Market, said: "It was really amazing to see everyone come together to help this woman.
"People in the street gathered round her, were holding her. They stood around for around two, three hours.
"I have lived here for 25 years and I've never seen anything like it in this town."