Election results: Labour retains control of Luton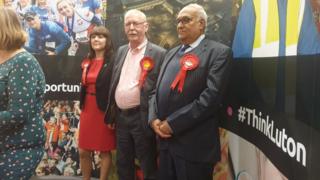 Labour have held control of Luton Borough Council despite losing three seats to the Liberal Democrats.
The Liberal Democrats also took a seat from the Conservatives.
With an overall turnout of 29.37% and 42,904 votes cast on Thursday, Labour now has 32 councillors, the Lib Dems and the Conservatives both have four each.
The Conservatives held on to Central Bedfordshire but saw their majority reduced.
They lost 10 seats to independents, and two to the Liberal Democrats. UKIP also gained a seat from Labour.
The Tory majority is still large, at 23, but that is down from 45.
Bedford Borough Council remained with no party in overall control, while Liberal Democrat Dave Hodgson was re-elected as Bedford's mayor.
Analysis
By BBC Three Counties Radio political reporter Andy Holmes
It has not been a great day to be a Conservative in Hertfordshire and Bedfordshire.
Although they've held on to Broxbourne, Hertsmere, Dacorum and East Herts councils, the Tories have lost overall control of both Welwyn Hatfield and St Albans, where Tory leader Alec Campbell lost his seat.
The Lib Dems have been the biggest benefactors from all of this, gaining more than 20 seats, whilst Labour have held Luton and Stevenage.
Either search using your postcode or council name or click around the map to show local results.