Election results: Conservatives lose control in St Albans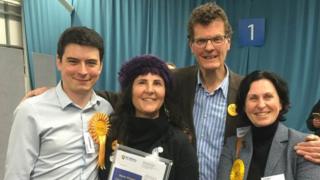 The Conservatives have lost control of St Albans District Council as the local party leader lost his seat.
The Liberal Democrats are now the largest party after taking six seats from the Tories, including that of council leader Alec Campbell.
Mr Campbell said he was disappointed with the result which was "far worse" than he had expected.
"We [St Albans] were a pretty strong remain area and the opposition capitalised on that," he said.
"There has been a lot of dissatisfaction among Conservative voters over the Withdrawal Agreement or Brexit in general and we are having to live with it.
"The results show overall there has been a switch from Conservative towards Liberal Democrats.
"We have to accept mistakes have been made and we are not where we want to be."
In St Albans, the Conservatives also conceded one seat to Labour and one to an independent.
The Tories, who had controlled the council since 2015, now have 23 seats, Labour has six and the Lib Dems have 25, with three independents and one Green councillor.
It leaves the Lib Dems five seats short of a majority.
'Significant change'
St Albans Liberal Democrat councillor Chris White said it "remains to be seen" who will have control in the new council and discussions will take place.
"We could be talking coalition, we could be talking going it alone, but whatever happens there's going to be some significant changes in St Albans," he said.
He said a combination of things had led to the party's success in the city including the "Brexit backlash" in a strong remain area, the strength of Parliamentary candidate Daisy Cooper, and a manifesto for improving the environment and improving community facilities.
The Conservatives also lost North Hertfordshire District Council, with no party taking overall control.
The Liberal Democrats gained five seats, with Labour gaining two, all from the Tories, who are still the largest party with 22 seats.
On Welwyn Hatfield Borough Council, the Tories are now two seats short of an overall majority, with 23 seats out of 48.
The Lib Dems took seats from both the Conservatives and Labour, meaning there is no overall control.
Lib Dems retained control of Three Rivers District Council, gaining five seats to increase their majority to 24.
Fourteen seats were defended, 10 of them Conservative. They lost five, reducing their numbers to 12.
Labour defended one seat, which it held.
The Conservatives retained control of East Hertfordshire District Council.
Hertsmere Borough Council and Dacorum Borough Council were also held by the Tories, while Labour kept control of Stevenage.
There was no change to the make-up of Conservative-controlled Broxbourne Borough Council, where 11 seats were being defended. The Tories held the 10 they were defending and Labour defended one.
There was also no change to Liberal Democrat control at Watford Borough Council, where 13 seats were defended. The Lib Dems held 10 and Labour retained its three seats.
Analysis
By BBC Three Counties Radio political reporter, Andy Holmes
Today is not a great day to be waking up as a Conservative in Hertfordshire and Bedfordshire.
Although they have held on to Broxbourne, Hertsmere, Dacorum and East Herts councils, they have lost overall control of both Welwyn Hatfield and St Albans, where Tory leader Alec Campbell lost his seat.
The Lib Dems have been the biggest benefactors from all of this, gaining more than 20 seats, whilst Labour have held Luton and Stevenage.
Friday's counts include all of Central Beds, Bedford's mayoral election and a third of Milton Keynes Council.
Either search using your postcode or council name or click around the map to show local results.