A421 driver hit by own car as lorry ploughs in to it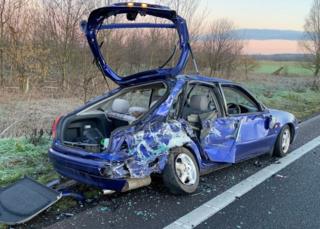 A driver was hit and injured by his own broken-down car after a lorry ploughed into it.
The car had come to a standstill on the inside lane of the A421 near Great Barford, Bedfordshire, at 07:10 GMT.
"Luckily the driver was out of the vehicle" when it was "hit by an HGV who 'didn't see it'," said police.
The man was treated in hospital for minor injuries and the lorry driver was reported to court for driving without due care and attention.
Police said they had already been called about the stranded vehicle on the eastbound section of the dual carriageway, but "a short time later, we received further reports that the car had been involved in a collision with a lorry".
Much of the driver's side of the vehicle was destroyed.
The man had already got out of his car, but was hit by it because of the force of the impact.
"[It] goes to show the importance of getting out of your vehicle when broken down," traffic police wrote on Twitter.