Milton Keynes Council takes steps over 'huge' warehouse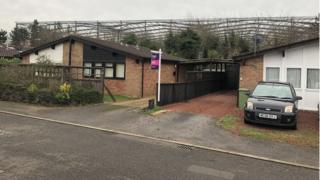 Homeowners living next to a "huge" warehouse have been told measures will be taken to try to reduce its impact, after a planning error.
The 18m (59ft)-high warehouse is being built in Blakelands in Milton Keynes for GUPI 6 Ltd.
Milton Keynes Council admitted its letter confirming planning permission did not include all the screening and noise conditions it wanted to impose.
The council said it was seeking to apply conditions retrospectively.
Residents objected to the new warehouse fearing it would block out sunlight, but planning permission was granted by the Labour-run council in 2017.
Linda Wardlaw, from the Blakelands Residents Association, who lives "underneath" the warehouse, had said the "huge, enormous monstrosity" made her "cry every single day".
She said the association had put in a formal complaint and would be pursuing compensation from the council.
'Absolutely outraged'
John Bint, Conservative planning spokesman on the council's development control committee, voted against the original development.
He said residents had "every right to be absolutely outraged" the letter had not included mitigating conditions such as reducing the hours of operation and movement of vehicles, and screening the building.
"Somehow these conditions were left off the letter sent to the company and therefore those conditions don't apply," he said.
At Thursday's council committee meeting, it was decided lawyers would be consulted to find a solution.
Keith Mclean, Labour chairman of the committee, said they were "committed to finding a solution that mitigates the issues as far as is possible".
An order has already been made that all external lighting at the warehouse must be turned off outside certain hours.
GUPI 6 Ltd has declined to comment.