Convicted Bedford prisoner sentenced for £30k jail drug deal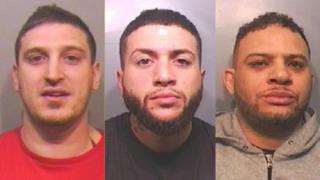 A convicted drug dealer who orchestrated a "shocking" £30,000 cocaine deal from a Hertfordshire prison has been sentenced to seven years in jail.
Domineco Masciopinto, 38, formerly from Bedford, is already serving a 14-year-sentence at HMP The Mount.
He pleaded guilty to a charge of conspiracy to supply controlled Class A drugs after admitting his part in a Bedfordshire-wide drug dealing operation, police said.
Four other people were also sentenced.
Luton Crown Court heard that Masciopinto contacted two associates, Daniele Digiacomo, 27 and Jason West, 36, on a mobile phone from prison.
Bedfordshire Police said Kelly Imlay, 30, met West twice in Luton on 28 September 2017 and that he had handed her a package which she took to a car park in Lurke Street, Bedford to exchange with Digiacomo.
But Digiacomo was arrested when police witnessed the deal and found him carrying 995g of cocaine at 79% purity, more than £1,100 in cash and three mobile phones.
Imlay's car was stopped nearby shortly afterwards and £28,335 of cash was found, along with a handwritten note with Lurke Street's postcode on.
Digiacomo, had previously been sentenced to eight years in prison, for his part in the same 2012 drug-dealing case as Masciopinto.
West was arrested four months later, after being found in a £99-a-night luxury serviced apartment in Milton Keynes, where police discovered £5,000 in £50 notes and a diamond-encrusted Rolex watch.
Daniele Digiacomo, 27, of Farrer Street, Kempston, pleaded guilty to a charge of conspiracy to supply controlled drugs of Class A and was jailed for six years.
Jason West, 36, of no fixed address, pleaded guilty the same charge and was jailed for six years and eight months.
Imlay was jailed for two years, suspended for two years after pleading guilty to the conspiracy to supply cocaine. She will also have to carry out 250 hours of community service and wear an electronic tag for 12 months.
Digiacomo's partner, Bobbie Keet, 25, of Arbour Court, Henry Street, Northampton, received a community order for 12 years after being found guilty of money laundering offences under the Proceeds of Crime Act.
Det Insp Justin Dipper, from Bedfordshire Police's Serious and Organised Crime Unit, said: "The fact Masciopinto helped arrange the deal from behind bars shows a shocking lack of remorse for his previous crime."