Hemel Hempstead driver guilty of killing 'good friend' in crash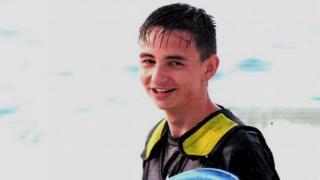 A Royal Marine cadet who crashed a car into a tree, killing a "good friend", has been convicted of causing death by dangerous driving.
James Norton, 20, lost control of his vehicle as he tried to overtake a slower-moving van, on the A414 in Hemel Hempstead, Hertfordshire on 25 August 2017.
His passenger, Joshua Porter, 18, from Bushey, died at the scene.
St Albans Crown Court heard the car was travelling at about 80mph (129km/h).
Norton had denied causing death by dangerous driving but was convicted by a jury.
He had previously admitted the lesser charge of causing death by careless driving.
During a trial, the jury heard Norton, of Latimer Close, Hemel Hempstead, was driving his red Vauxhall Corsa at speed, and failed to overtake the van until the last minute.
Left it very late
He then lost control and the car left the road and crashed into a tree, the court heard.
Prosecutor Peter Shaw said: "Mr Norton failed to react to the presence of the van. He left it very late indeed.
"He either swerved or moved the Corsa into lane two at the last moment and narrowly avoided a collision."
Both friends studied public services at West Herts College in Watford.
At the time of the crash the Corsa was estimated at travelling between 79.3mph and 84.6mph, the court heard.
When questioned by police, Norton said: "I was driving, that's all I remember. I don't know why I changed lane late.
"I'd just like to say Josh was a really good friend who was always there for me".
Mr Porter's mother Deborah described her son as an "outgoing, lively and bubbly person who had his whole life ahead of him."
Norton will be sentenced on 7 January.