Luton Airport cleaners start week-long walkout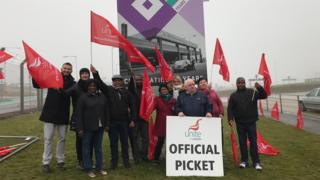 Airport cleaners earning below the minimum wage are staging a week-long walkout in a dispute with bosses.
The seven-day strike at London Luton Airport is part of the workers' ongoing campaign for higher pay.
Sasse, which employs the cleaners, pays £7.83 an hour, according to union Unite. A recent pay deal means that by 2021, they will still earn less than the Real Living Wage of £9, it said.
Sasse said it had offered a "a pay rise above National Minimum Wage".
The strike began at 18.30 GMT on Tuesday.
Staff employed by Clece Care Services were also due to stage a walkout but have suspended the action while workers vote on a revised pay deal from the company.
Jeff Hodge, regional officer for Unite, said airport bosses were "behaving like Scrooge".
"With cleaners out on strike for a full seven days in the run-up to Christmas, the stoppage will bring cleaning services at the UK's fifth busiest airport to a virtual standstill," he said.
"With healthy profits and growing passenger numbers, Luton Airport and its contractors have no excuse for paying workers below the Real Living Wage."
Benny Wunderlich, the Managing Director of Sasse UK, said it the company has "actively worked in partnership with Unite to achieve a sustainable pay deal", and has offered "a pay rise above National Minimum Wage".
"We have proposed 9% over 3 years which we believe is a realistic offer. As a service provider to Luton Airport we work hard to keep disruption to passengers to a minimum," he said.
The airport has refused to intervene in the dispute, and says it encourages its contractors pay at least the Real Living Wage, which was raised to £9 outside the capital last month.
An airport spokesman added: "Whilst we cannot comment on the dispute, we are working hard to ensure there is no disruption to our passengers."