Bedford Hospital still 'requires improvement'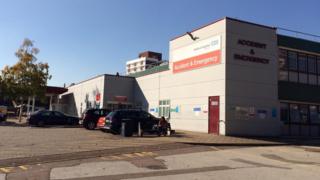 An NHS hospital's urgent and emergency care service has gone from "good to "requires improvement" in a latest inspectors' report.
A visit to Bedford Hospital by the Care Quality Commission (CQC) found "concerns" in the department about staff training, medicine management and infection risks.
The news was "disappointing", said the hospital, but changes had been made.
The hospital's overall rating remains at "requires improvement."
The inspection was carried out over six days in the summer, and finished before an Urgent Treatment Centre (UTC) opened in the grounds of the hospital on 1 October.
The report found there was "poor infection control and prevention practice" as well as "reduced nurse staffing levels" in urgent and emergency services.
It did find some areas of "improvements" and increased the caring rating from "requires improvement" to "good" as well as finding "examples of outstanding practise in maternity services".
The CQC's chief inspector of hospitals, Professor Ted Baker, said: "Our inspection found caring and committed staff who delivered patient care that was kind and maintained their dignity and we found examples of high quality care.
"However, we identified concerns in the emergency department and this is where we would like to see improvements made, particularly with regard to staff training."
Stephen Conroy, chief executive of Bedford Hospital NHS Trust, said: "The assessment of urgent care services was disappointing for us to hear, but we have already implemented planned improvements, such as opening the new UTC which is a great improvement for patients requiring our urgent care services."
He said it was important "we collectively focus on the actions required to improve services in a sustainable way for our patients".