Oyster card scheme extension agreed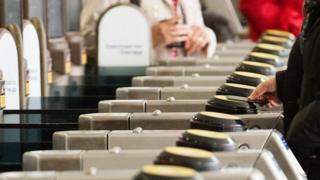 Transport for London's Oyster card and contactless payment travel system is to be extended, the Department for Transport (DfT) has announced.
The card, introduced in 2003, allows passengers to pay-as-you-go when travelling on public transport within the London fare zones.
Its extension, due in early 2019, will include Hertford North, Welwyn Garden City, Luton Airport Parkway and Epsom.
The rail minister said it would make "access to the capital even easier".
Oyster cards are reusable electronic tickets, which are topped up by users, and are currently be used on buses, the Tube, trams, Docklands Light Railway, London Overground and TfL Rail.
The system also operates on Gatwick Express, Thameslink and Southern Trains services between London and Gatwick Airport.
The extension will bring in other Thameslink and Southern services and Great Northern rail services which are outside the current London fare zones.
'First step'
The DfT said rail passengers using Hertford North and Epsom in Surrey and intermediary stations will be among the first to benefit.
Later in 2019 the scheme will be extended to Welwyn Garden City and stations in between including Hatfield, Welham Green, Brookmans Park and Potters Bar, and to Luton Airport and intermediary stations including Harpenden, St Albans and Radlett.
Rail minister Andrew Jones said: "This is about making access to the capital even easier for commuters and other rail travellers, including visitors to the UK arriving at Luton Airport.
"Extending pay-as-you-go now will also help us better understand passenger travel patterns and will form the basis of the consultation we are launching early next year into making it available across much more of the south east."
St Albans MP Ann Main said she was "delighted" with the extension.
"I don't think I have had a meeting with any transport secretary or minister in the last few years without bringing this up," she said.