Medieval chess piece part of St Albans games exhibition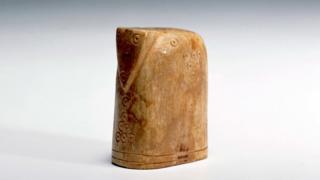 A 12th Century chess piece found in St Albans is among more than 100 games artefacts going on display in the city.
The knight joins other items as part of Game Plan - a major exhibition visiting from London's V&A Museum of Childhood.
Board games from the past 200 years include recent favourites such as Mousetrap, Cluedo and Monopoly.
The display marks the "joy and frustration" of playing them, a St Albans Museum & Gallery spokeswoman said.
The exhibition presents games from the V&A's collection and this is the last chance to see them before the Bethnal Green-based museum puts them back in storage.
"This vibrant exhibition celebrates the joy, excitement and occasional frustration of playing board games," the museum spokesman said.
The 5cm tall chess piece, made of red deer antler, was found on Chequer Street during excavation when The Maltings shopping centre was built in the late 1980s.
Museum curator Sarah Keeling said pieces of similar design, pre-dating the St Albans one, had been found in other parts of the world.
Chess originated in India and was "still new to the UK" in the 12th Century.
"It's one of our star objects," she said.
"St Albans Abbey was a prime site of pilgrimage so the guess is that it was dropped accidentally by a visitor as it was the only piece they found."
Ms Keeling said evidence games had been played in the area from the Iron Age onwards made the city an appropriate place for the exhibition.
"A chequer board was found in an iron age settlement just outside the city and Roman gaming tokens have been found in Verulamium [the Roman town to the south west of modern-day St Albans]," she said.
"We always say you can see 2,000 years of history in St Albans and board games go back all that way as well."
Game Plan will be at the museum until 3 March.