'Park anywhere' electric bike hire launched in Milton Keynes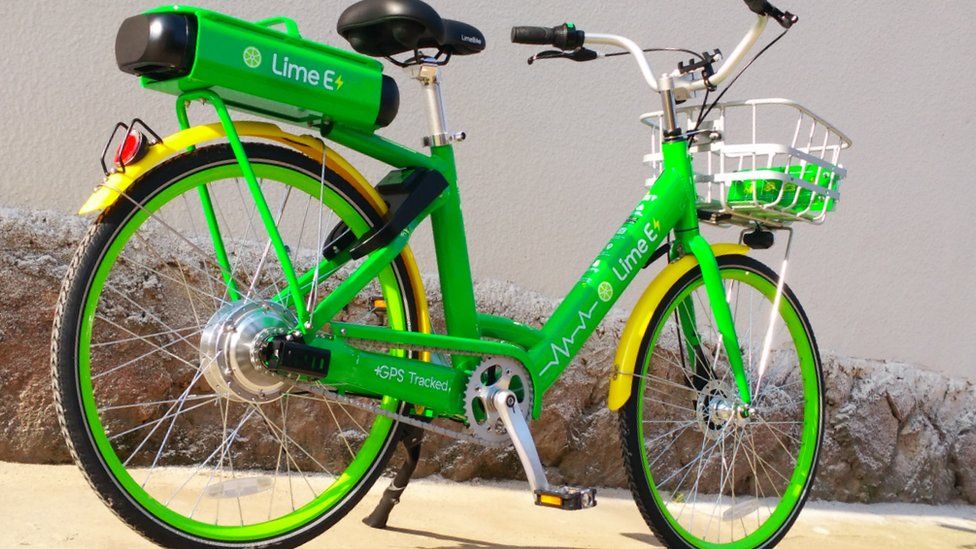 What is claimed to be the UK's first dockless electric bike hire service has begun, despite the risk of vandalism.
Lime said its motor-assisted bikes in Milton Keynes would be accessible for people of any age or fitness level.
They can be unlocked for £1, ridden for 15p per minute, then parked anywhere "responsibly" after use.
Santander pedal bikes can already be rented in the town for £1 per 30 minutes, but over half were vandalised and not in use during summer 2017.
The Silicon-Valley-based company already rents out electric bikes in Europe and North America, and said less than 1% had been deliberately damaged or stolen.
They are located and paid for via a free app and feature motors to make cycling easier.
Lime claims it is the first such service in the UK. About 100 bikes will be available in the Buckinghamshire town initially, with numbers expected to increase in the first few weeks.
Jaanaki Momaya, general manager for Lime UK, said: "Milton Keynes is a dynamic city at the forefront of transport innovation.
"We could not think of a better place to launch in the UK and we look forward to expanding into other areas shortly."
Milton Keynes has had a pedal bike rental system with 40 docking stations since June 2016, but operator Santander said in summer 2017 the service was at risk after more than £200,000 of "intentional damage" had been caused in its first year.
But the company recently announced plans to introduce electric bikes in London.
A Lime spokeswoman said the bike's batteries are monitored remotely and can be swapped by the maintenance team when they run low.
It also said the bikes had anti-theft locks, alarms and tracking, and the company was working closely with police to ensure the bikes were used and parked responsibly.
Related Internet Links
The BBC is not responsible for the content of external sites.