St Albans sinkhole flats 'not ready' for Christmas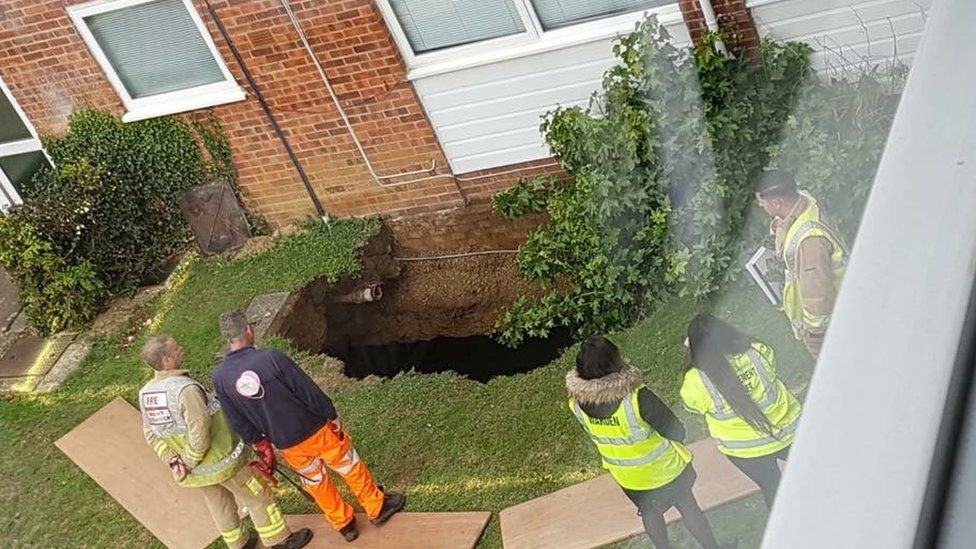 Six households evacuated from a block of flats after a sinkhole appeared have been told it would be "unrealistic" to think they will be back by Christmas.
Foamed concrete has been pumped into the hole to help stabilise it.
Symon Smith Property Consultants (SSPC) said residents may be able to return to 16 other flats if stability tests are a success.
The agent said any return to the flats may not be permanent as further work will be needed.
SSPC said an engineer had visited the site and said the size and shape of the hole would indicate that it could be a "crown hole". These are caused by human activity rather than being naturally occurring.
The engineer also confirmed there was structural damage to the building.
Alan Smith of SSPC said: "After this testing and positive structural surveys, there is a chance that residents in flats 20 to 34 could be allowed to move back in, although whether this will be on a permanent or temporary basis is currently unclear."
He described the situation for the remaining six flats as "more problematic" and residents needed "longer term alternative arrangements".
"This building has to be fully investigated from top to bottom and it would seem unrealistic to assume anyone will be back in residence before Christmas," he said.
St Albans City and District Council said it was helping a handful of residents with temporary accommodation but the majority had found their own alternative places to stay.
Related Internet Links
The BBC is not responsible for the content of external sites.