Waddesdon air crash: Pilots had 'limited' chance to act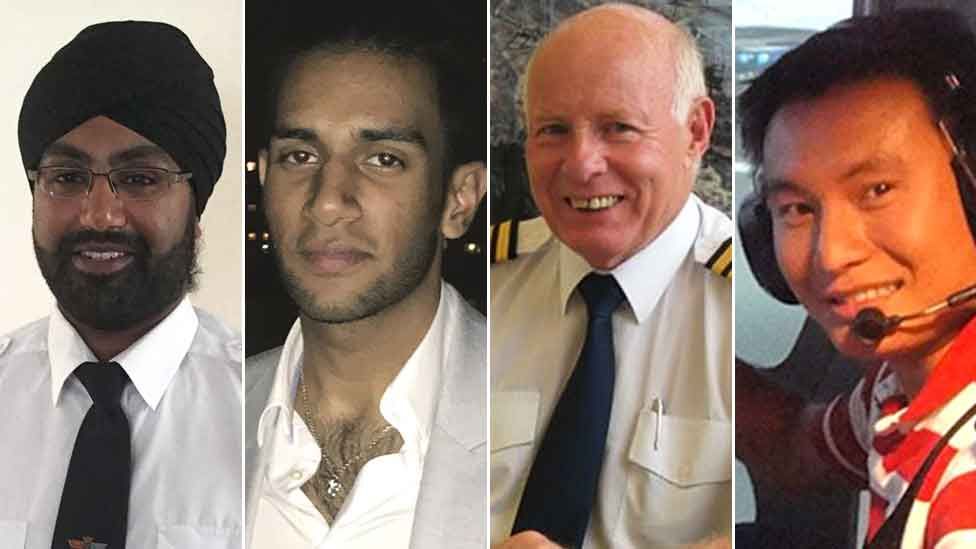 Two trainee pilots killed in a mid-air crash had "limited" opportunity to see each other, an investigation has found.
Nguyen Thanh Trung, 32, and Saavan Mundae, 18, died during a training flight over Waddesdon last November.
Instructors Michael Green, 74, and Jaspal Bahra, 27, were also killed in the crash which saw a two-seater plane collide with a helicopter.
A device alerting pilots to other nearby aircraft is being developed by the Civil Aviation Authority.
The accident happened while the Cessna 152 plane carrying Mr Mundae and Mr Bahra was descending from above the helicopter on 17 November 2017.
Neither aircraft was receiving an air traffic control service.
A report by the Air Accidents Investigation Branch (AAIB) stated: "The opportunity for the occupants of either aircraft to see the other was limited because, although they were in proximity for some time, they were both following a similar track and were not in each other's field of view."
The AAIB said such "see and avoid" flying has "well-known limitations".
Investigators noted that pilots of planes such as the Cessna 152 must make a series of shallow turns to see into blind spots, while it would have been "impractical" for the helicopter pilot to see behind him.
Both aircraft came from the Wycombe airstrip known as Booker Airfield, which is about 20 miles from the crash site over the Waddesdon Estate; the former country seat of the Rothschild banking dynasty.
The flying club which operated the plane has since highlighted the importance of maintaining an effective lookout to instructors.
It also stressed the need to change the direction of a plane during a long descent to check the area ahead is clear.
Related Internet Links
The BBC is not responsible for the content of external sites.