St Albans sinkhole residents unable to return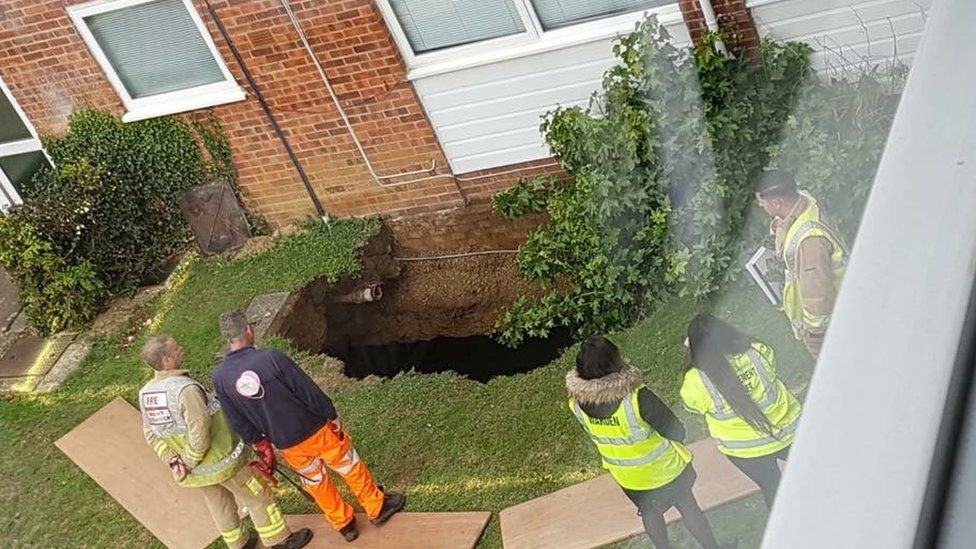 Residents evacuated from their homes after a hole opened up next to their block of flats will not be able to return for at least a week.
About 50 residents have been told to find alternative accommodation.
The property's managing agents said they may not be able to move back for "possibly even two weeks".
Alan Smith Property Management Services has been looking after the private block for more than 20 years.
Mr Smith said his office had contacted residents in the 21 flats to tell them to return to their homes and collect a suitcase.
He said they will have to find alternative accommodation, he is dealing with the insurance company and "hopefully they will all be reimbursed".
"They are not going to be allowed back in the building certainly for at least a week, or possibly even two weeks depending on how work goes," he said.
Mr Smith said he "didn't think it was a sinkhole" but was "more likely to be [due to] the rainwater pipes".
"It's the rainwater drain that's been eating away the soil for years and years and years," he said.
"It's just something that suddenly occurred, no one knew anything about it."
He added that the hole was "underneath the footings of the building", so piles deeper than the hole itself had to be drilled around it and filled with concrete.
"Then an engineer will need to confirm that everything is stabilised," he said.
"It can then be backfilled whereupon residents can talk about moving back in again."
Related Internet Links
The BBC is not responsible for the content of external sites.