Royston fire engine crash death: Vehicle went 'too fast' around roundabout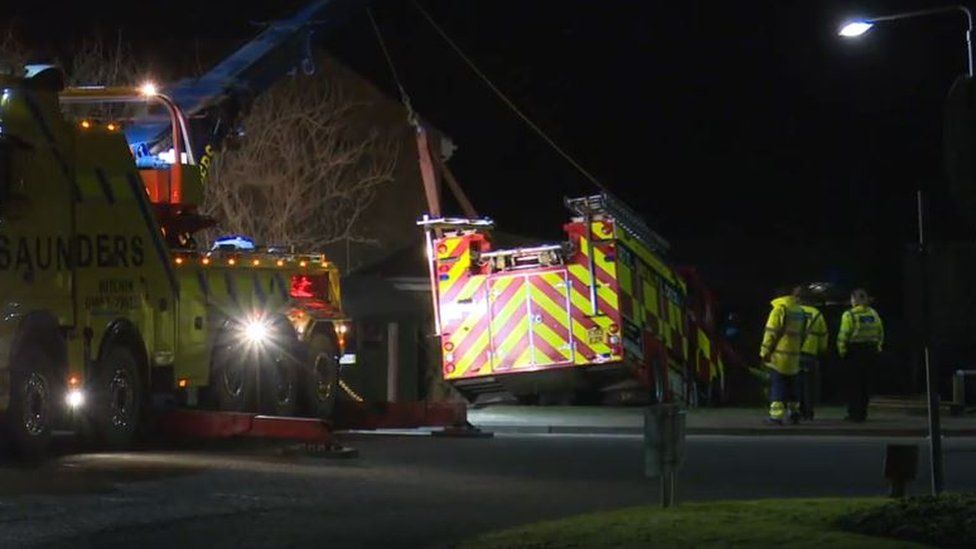 A pedestrian was crushed to death when a fire engine on a 999 call toppled over as it went too fast around a roundabout, a court has heard.
Mitchell Bailey, 58, died when he was struck at a roundabout in Royston, Hertfordshire, on 18 January 2017.
David Williams, 48, denies causing death by dangerous driving and a lesser, alternative charge of causing death by careless driving.
Prosecutor Peter Shaw said the speed at the roundabout was "misjudged".
Mr Bailey was walking home from local shops in Royston at 20:40 GMT when he died, Mr Shaw told St Albans Crown Court.
He said: "Emergency workers driving vehicles responding to 999 calls have no exemption from the law."
Mr Shaw said there had been a painstaking investigation into the accident by a police officer.
He said: "She found that the driver of the appliance was travelling at between 37.5mph (60km/h) and 39mph (62.7km/h) immediately prior to entering the roundabout. This is compared to a maximum speed of 21.6mph (34.7km/h) for the vehicle to safely negotiate the roundabout.
"The driver of the appliance has misjudged the speed at which he was travelling and/or the degree of turn required to safely travel around the roundabout, resulting in him entering the roundabout too quickly."
When interviewed, Mr Williams said that as he made his way around the roundabout his recollections "were a vague vision of what I can only assume was a person going across in front of the windscreen".
The prosecutor said a defence expert will claim that gravel on the road had an impact on the cause of the collision, which happened on the roundabout at the junction of Old North Road and Burns Road in Royston.
But Mr Shaw said Mr Williams, of Baldock Street, Royston, placed himself slightly off-centre to the right hand side of the roundabout when the gravel was in its left hand side.
The case was adjourned with evidence being called on Wednesday.
Related Internet Links
The BBC is not responsible for the content of external sites.