Grooming accused 'dislikes young girls'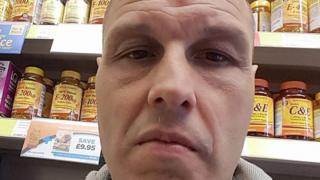 A man accused of biting the tip off a so-called paedophile hunter's finger told a court he dislikes teenage girls.
When Thomas De-Castle-Lynne, 46, was asked if he had an interest in young girls, he told jurors at St Albans Crown Court: "Hell no - they annoy me."
He was confronted by a group called Catching Online Predators in Stevenage after allegedly arranging to meet a 14-year-old girl for sex in March.
Mr De-Castle-Lynne denies five charges, including grooming and common assault.
The jury heard the kitchen porter, who was living at a YMCA, arrived at the town's railway station expecting to meet a young girl called Maddie, but she was a fictional teenager the anti-paedophile group had created on Facebook.
In the witness box, Mr De-Castle-Lynne, of Parsons Green, Hammersmith, London, said that when he saw the profile online, he thought it had been done by an adult or a professional.
His barrister Daniel O'Malley asked: "If you knew it was not a real person, why get involved?"
Mr De-Castle-Lynne, who suffers from ADHD, replied: "I just wanted to p*** the person off. To wind them up and tease them and call them out."
When Mr O'Malley asked why he then agreed to meet, Mr De-Castle-Lynne replied: "I don't like fake people."
He also denied contacting three other "girls" on Facebook, saying his account had been hacked.
Earlier, the court heard how Mr De-Castle-Lynne was surrounded by people from Catching Online Predators when he arrived at the station.
During a struggle, it is said he bit off the tip of Stephen Little's left little finger, which left him in "excruciating pain".
The trial continues.