Arthur Collins's dad admits cannabis factory charge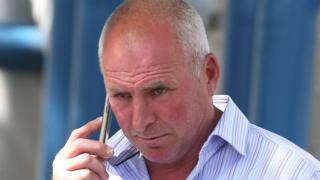 The father of nightclub acid attacker Arthur Collins Jnr has admitted allowing his home to be used as a cannabis factory.
Arthur Collins Snr, 55, was arrested after about 30 cannabis plants were found by police searching for Collins Jnr at his Hertfordshire home.
His younger son Thomas, 22, also pleaded guilty to possessing cannabis, a CS gas canister and a stun gun.
Collins Snr and Thomas Collins will be sentenced on 31 October.
Police looking for Collins Jnr searched the £1m family home in White Stubbs Lane, Broxbourne, and discovered the plants in an outbuilding on 17 April 2017.
In a basis of plea read to the court, Collins Snr's barrister, Graeme Wilson, said his client had "turned a blind eye" to the cannabis being grown by his son-in-law and son and had no access to the building it was being grown in.
Collins Snr admitted knowingly permitting or allowing the production of the Class B drug to take place.
A case against his wife Jackie Collins, 53, has been dropped.
At an earlier hearing, the prosecution said the plants were worth up to £25,000.
Mr Wilson also said that £1,120 of £2,000 in cash found at the property was the result of a bet on the Grand National winner, called One For Arthur.
Collins Jnr, 26, was sentenced to 20 years in jail following an acid attack at a London nightclub that injured 22 people last April.
In January, he was jailed for a further eight months for using a smuggled mobile phone to call his ex-girlfriend, reality TV star Ferne McCann, from his cell.