'Paedophile hunter' revealed 'excruciating pain' as finger bitten off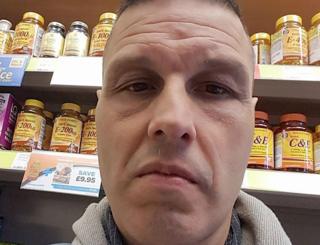 A "paedophile hunter" has told a jury that he was in "excruciating pain" when a man he was trying to detain bit off the top of his finger.
Stephen Little of a group called "Catching Online Predators" confronted Thomas De-Castle-Lynne, 46, at Stevenage railway station in March.
St Albans Crown Court heard that Mr De-Castle-Lynne was expecting to meet a 14-year-old girl for sex.
He denies five charges, including grooming and common assault.
The jury was told Mr De-Castle-Lynne, of Parsons Green, Hammersmith, London, had turned up at the station expecting to meet a fictional teenager named Maddie Parker that the group had created with a fake Facebook page.
The court heard that Mr De-Castle-Lynne was surrounded by the group at the station, including Mr Little.
In the witness box, Mr Little said that Mr De-Castle-Lynne was asked to leave the station and come with them.
On a bridge he said Mr De-Castle-Lynne threw a punch at Melanie McPoland, a member of the team, who was recording what was happening on her phone.
He said: "He punched her and grabbed her phone. I put my arm around his chest to restrain him.
"All I can remember is that as we restrained him we took him to the floor. He clamped onto my finger with his teeth. I remember excruciating pain."
Mr Little was taken to hospital. The wound did not heal and the tip was amputated.
Under cross examination by Daniel O'Malley, defending, he agreed the defendant had not tried to run.
He said: "He punched out at one of the team. He was being quite aggressive and was being volatile. We restrained him to prevent harm to him or anybody else."
Mr De-Castle-Lynne denies attempting to meet a child under 16 following grooming, causing grievous bodily harm with intent, an alternative charge of causing grievous bodily harm, common assault and assault by beating.
Before the jury he changed his plea to guilty to causing racially aggravated harm or distress.
The trial continues.