Accountant Gerard Lawless jailed over £1.5m theft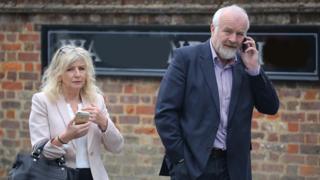 An accountant convicted of stealing £1.5m to fund a luxury lifestyle has been jailed for seven and a half years.
Gerard Lawless, 60, of Taylor's Hill, Galway, was found guilty of theft and fraud by abuse of position.
He took the money over a period of 11 years, mainly from two public relations companies in Harpenden, Hertfordshire.
Lawless' wife, Angela, 58, was cleared of being concerned in the acquisition, retention and use or control of criminal property.
The couple, who previously lived in Clarence Road, Harpenden, were privately prosecuted by Vincent Tickel, the owner of the companies called Hunter and Carbon.
During the trial, Prosecutor Gideon Cammerman QC told the jury at St Albans Crown Court that the money stolen between 2003 and 2014 was spent on expensive holidays, shopping trips to Selfridges, match tickets for international rugby games and champagne for his son's wedding.
Judge Alan Greenwood accepted the final figure was about £1.5m after the defence counsel said some of the expenditure had been for business.
'Staggering'
At a sentencing hearing, Lawless was also banned from being a company director for 10 years.
"The scale of the dishonesty proved against you is staggering in every respect," the judge said.
Following the trial, Mr Tickel said: "I am disappointed that having reported this crime to the police they did absolutely nothing and left me with the task of having to fund a private prosecution in order to get justice."
Tamlyn Edmonds, of EMM Legal, who brought the prosecution said: "This lack of investigation, which is a common occurrence, is why so much financial fraud goes completely unpunished.
"It is only because the victim pursued a private prosecution that justice has now been served."
Hertfordshire Police said it was "implementing an immediate review to examine the circumstances surrounding the decisions made in November 2016 concerning this case".