Accountant Gerard Lawless guilty of £1.7m theft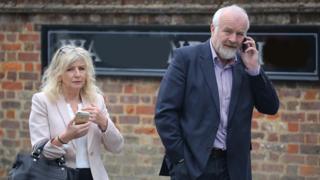 An accountant has been convicted of stealing £1.7m to fund a luxury lifestyle.
Gerard Lawless, 59, of Taylor's Hill, Galway, was found guilty of theft and fraud by abuse of position.
He took the money over a period of 11 years, mainly from two public relations companies in Harpenden, Hertfordshire.
His wife, Angela, 58, was cleared on Friday of being concerned in the acquisition, retention and use or control of criminal property.
'Trust betrayed'
The couple, who previously lived in Clarence Road, Harpenden, were privately prosecuted by Vincent Tickel, the owner of the companies called Hunter and Carbon.
During the trial, St Albans Crown Court heard Mr Lawless started working as an accountant for them in November 1997.
Prosecutor Gideon Cammerman QC told the jury the £1.7m, stolen between 2003 and 2014, was spent on expensive holidays, shopping trips to Selfridges and match tickets for Ireland rugby international games.
In a decade, £230,000 was spent on holidays and the champagne for his son's wedding, to which the directors and employers were invited. His purchases were funded with a company credit card.
Mr Tickel and others at the companies had trusted Mr Lawless and Mr Tickel told his wife that if he died she should go to Mr Lawless because he knew about everything, the court heard.
"That trust was betrayed in a sustained way," the prosecutor said.
Lawless has been remanded in custody and is due to be sentenced on Wednesday.