St Albans Council bids to stop 'idling' ice cream vans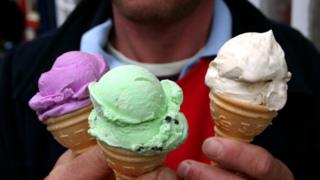 A council is trying to crack down on pollution caused by ice cream vans.
St Albans District Council is examining how it can "legally require" vans on St Peter's Street to use adjacent electricity supplies or generators rather than idling their engines.
Councillor Frances Leonard highlighted the council's approach in a written answer at a council meeting.
She said the action was "important" due to "the proximity of these exhaust fumes to children".
Ms Leonard, who is responsible for environmental issues, was responding to a question from councillor Chris Davies asking what had been done to tackle poor air quality in the city, and the progress of anti-idling signage and air quality monitoring, according to the Local Democracy Reporting Service.
"We think this is an important avenue given the proximity of these exhaust fumes to children and indeed high densities of people on the street," she said.
"The ice cream concession holder in Verulamium Park - who is adjacent to an electricity supply by the public toilets - is being encouraged to meet the above requirement by converting the van to work on electricity.
"For the other ice cream concessions in the parks, where there is no electricity supply, we have encouraged them to use super silent diesel generators."
The councillor also said the authority was looking to put anti-idling signs for all vehicles around schools, nurseries, playgrounds and nursing homes and also in council car parks.
But, she said, there had been some difficulties in engaging with local schools and nurseries.
She said that once that work was complete, it was likely the council would continue to promote anti-idling signage on St Albans highways, which would require a formal application to the Department for Transport.